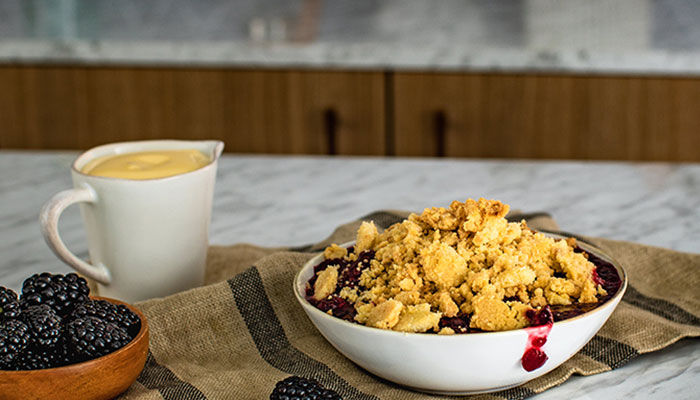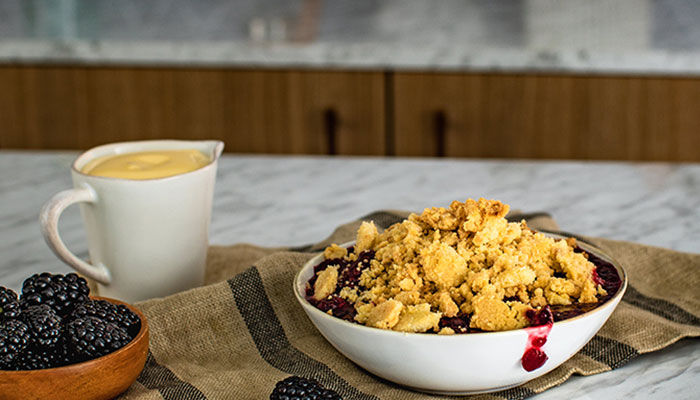 Blackberry Crumbles
This quick twist on a classic pudding works just as well for breakfast accompanied by thick Greek yogurt as it does for dessert partnered with custard or ice cream. Tempting as it may be, don't rush the preparation of these blackberry crumbles; slowly simmering the fruit until thick, sweet and sticky is a must, as is baking the buttery topping to a crisp, golden, crunchy crumb.
Goody Kitchen
Recipe by: Goody Kitchen
1

Preheat the oven to 180°C.

2

Put the flour and caster sugar in a large bowl and whisk together. Add the butter and rub with the tips of your fingers into a sandy texture. Spread onto a baking tray and put in the oven for 30 minutes, stirring every 10 minutes.

3

Place the blackberries, granulated sugar, corn flour and water into a saucepan over a medium heat. Stir together and simmer gently for 10 minutes, until the fruit is beginning to break down and the liquid is thick.

4

Ladle the fruit mixture into serving bowls and sprinkle over the crumble before serving.
%comment%
2 Replies
reply
Thank you, your comment is under review and will be posted as soon as approved
Breakfast
American, Blackberry, Crumbles, Dessert