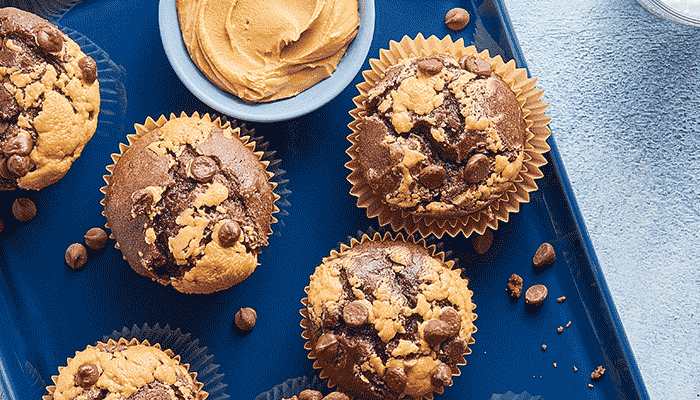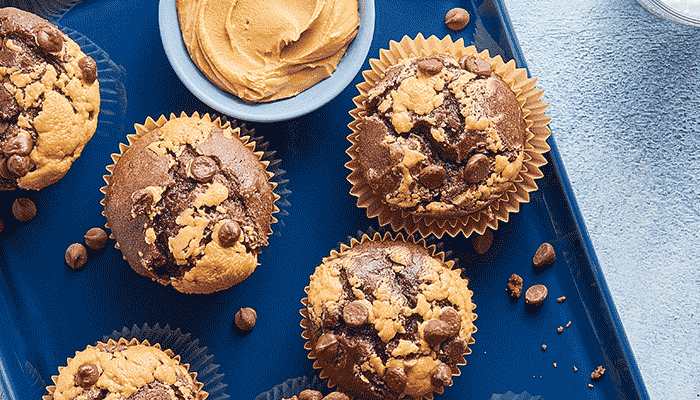 Chocolate Peanut Butter Muffins
Highly nutritious, and extremely delicous! These quick muffins are made with Goody's peanut butter to keep you feeling light as a feather and full of energy the whole day.
Goody Kitchen
Recipe by: Goody Kitchen
1

Preheat the oven to 210°C (410°F). Grease a 12-cup muffin tin with non-stick spray or line with cupcake liners. Set aside.

2

In a medium-sized bowl, mash the bananas using a fork. Once mashed, mix in the honey, egg, melted butter, Ghodi dark chocolate peanut butter, and vanilla extract until well combined. Set aside.

3

In a large bowl, whisk together the whole wheat flour, cocoa powder, baking powder, baking soda, and salt. Pour the wet ingredients into the dry ingredients and mix until fully combined. Gently fold in the chocolate chips, reserving some for topping the muffins.

4

Use a spoon to evenly distribute the batter into each cup, filling them to the top. Then add a small amount of Ghodi dark chocolate peanut butter and some reserved chocolate chips on top of each muffin, swirling gently with a knife.

5


Bake for 5 minutes, then reduce the temperature to 180°C (350°F) and continue baking for an additional 15-17 minutes or until a toothpick inserted into the center comes out clean.

6

Add any remaining chocolate chips on top of the warm muffins and press them in slightly. Allow the muffins to cool for 5 minutes in the muffin tin, then transfer them to a wire rack to continue cooling or enjoy them warm.
%comment%
2 Replies
reply
Thank you, your comment is under review and will be posted as soon as approved