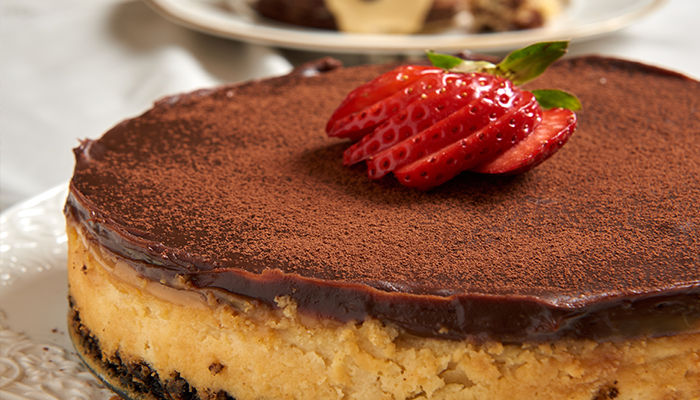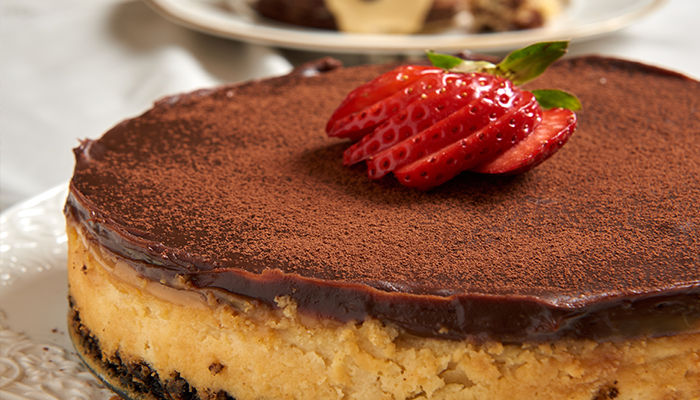 Dulce de Leche Cheesecake
An extravaganza of a dessert. This layered dulce de leche cheesecake features a buttery chocolate biscuit base, silky baked cream cheese filling and thick swirls of sweet, golden caramel. To top it all off, the whole thing is finished with homemade chocolate ganache. Whatever the occasion, and whoever you're cooking for, this is one of those recipes that can't fail to impress.
Goody Kitchen
Recipe by: Goody Kitchen
1

Heat the oven at 180oC.

2

Linen the cheesecake sheet base with parchment paper, then grease the edges with a little butter.

3

Mix the biscuit layer ingredients together, and pour it well in the base and set it aside.

4

To prepare the Dulce de Leche, remove the upper cover of the sweet condensed milk can; then place it in a pot filled with water, and boil for 3 hours. Do not forget to increase the boiling water's amount whenever it decreases, then take it out of the pot and leave it in the refrigerator until it is completely cooled.

5

Using an electric mixer, mix the cheese layer ingredients until incorporated, but do not mix them for a long time, so that the layer does not crack while baking.

6

Place the cheese mixture over the biscuit layer, then place the sheet in the oven for 15 minutes or until the cheesecake mixture becomes incorporated. Afterwards, take the sheet out of the oven and let it cool for an hour.

7

Add the rest of the prepared Dulce de Leche sauce to the cheesecake layer and spread it evenly, then leave it in the refrigerator for a full hour until incorporated.

8

To prepare the Chocolate Ganache, bring the whipped cream to a boil, then pour it over the chocolate granules, and stir them until they melt complexly. Leave them a bit until the mixture becomes warm, then spread it as a final layer, and leave the cheesecake overnight in the refrigerator until it is completely incorporated.

9

Garnish the cheesecake with chocolate powder and serve.
%comment%
2 Replies
reply
Thank you, your comment is under review and will be posted as soon as approved
Desserts
Cheesecake, Dessert