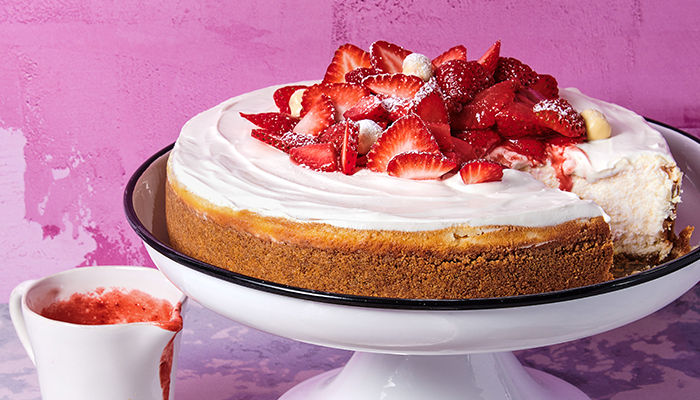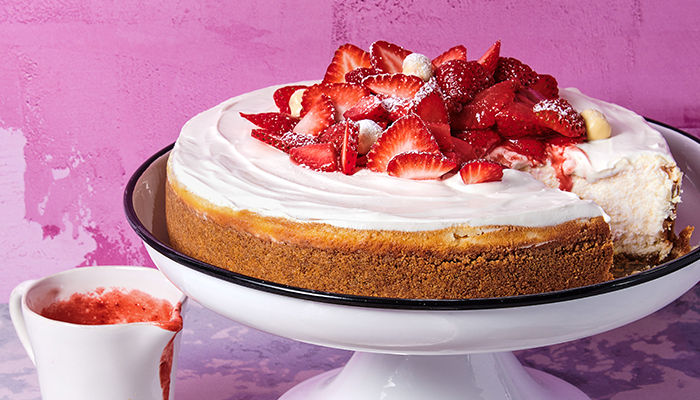 No-bake Peanut butter & Jam Cheesecake
Summer sweets inspo! This no-bake cheesecake is packed with fresh strawberries and moreish white chocolate peanut butter, the perfect dessert to impress this weekend.
Goody Kitchen
Recipe by: Goody Kitchen
1

Break the biscuits into a food processor and blitz to crumbs. Add the butter and process again until the mixture clumps together. Press into a 20cm springform cake tin, making sure the mixture covers the base in an even layer. Chill in the fridge for 1 hour. Once the base has set, spread the jam over the base then return to the fridge for another hour while you make the filling.


2

For the filling, put the peanut butter in a heatproof glass bowl set over a pan of simmering water. Heat the peanut butter until the mixture loosens slightly. Leave to cool to room temperature.


3

Beat the cream cheese in a large bowl until soft. Gently fold in the peanut butter and strawberry. In a separate bowl, whip the double cream to form soft peaks, then gently fold into the peanut butter and strawberry cheese mixture. Stir in the lemon juice and vanilla extract, then pour over the jam layer. Smooth the top, cover with cling film then set in the fridge overnight.


4

Remove the cheesecake 10 minutes before serving. Unclip from the tin, garnish with the jam, fresh strawberries, chocolate chips and peanuts, then slice to serve.
%comment%
2 Replies
reply
Thank you, your comment is under review and will be posted as soon as approved