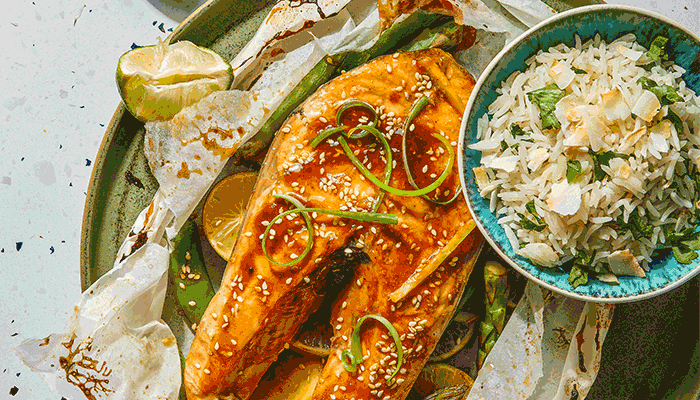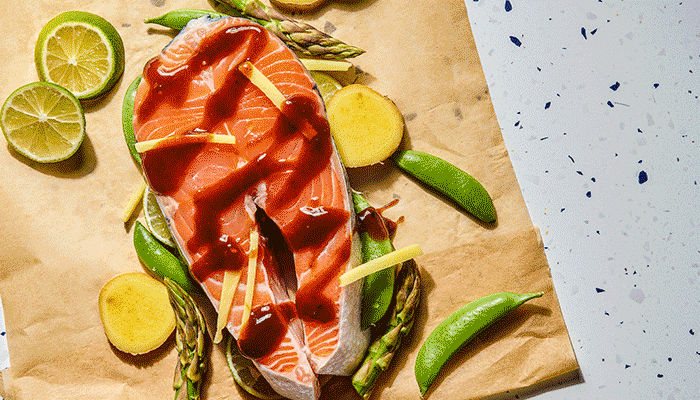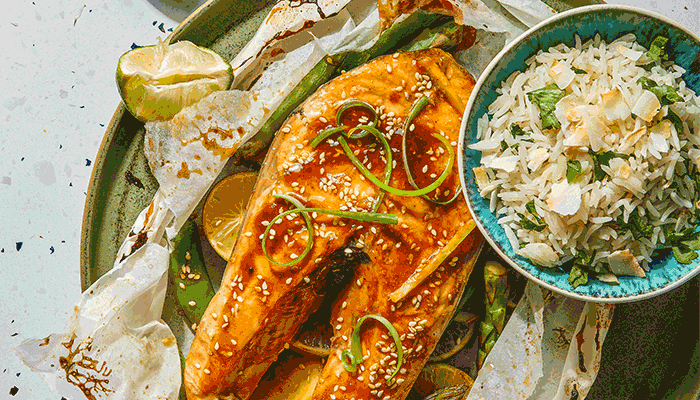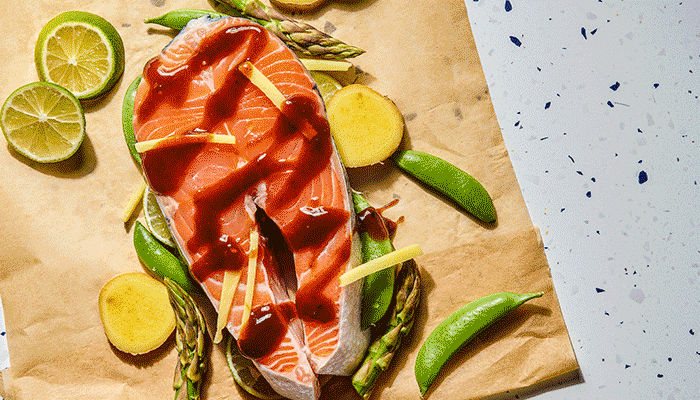 Baked salmon teriyaki
Baking fish with aromatics produces full-flavoured, perfectly moist results every time – our teriyaki salmon takes just 20 minutes to make!
Goody Kitchen
Recipe by: Goody Kitchen
1

سخني الفرن على حرارة 200 درجة مئوية. اصنعي 4 مربعات بحجم 30 سم باستخدام ورق الخبز المقاوم للشحوم وادهنيها بالزيت. قسّمي شرائح
البصل الأخضر والزنجبيل والليمون الأخضر بين المربعات وأضيفي فوقها شرائح فيليه السلمون، ثمّ ادهني السمك بصلصة الترياكي باستخدام فرشاة وضعي حوله البازلاء بالسكر والهليون.


2

اطوي جوانب المربعات لتصبح على شكل سلل، ثم اسكبي المرق وثبّتي السلل وضعيها على ورقة خبز. اخبزيها لمدة 15 دقيقة أو حتى ينضج السلمون والخضار.


3

في أثناء طهي السمك، حضّري الأرز. ضعي حليب جوز الهند، والأرز، وعشب الليمون ورشة ملح في قدر متوسط الحجم. املئي القدر بالماء المغلي وأضيفي الخليط إلى الأرز. اتركيه حتى يغلي، ثم ضعي الغطاء واطهيه لمدة 8 دقائق مع التحريك من حين إلى آخر. ارفعي القدر عن النار واتركي الغطاء مغلقًا حتى يحين وقت التقديم.


4

زيّني السلمون ببذور السمسم والفلفل الحار إذا أردت، وقدّميه مع الأرز.
%comment%
2 Replies
reply
Thank you, your comment is under review and will be posted as soon as approved
Lunch
سالمون, سمك, ياباني