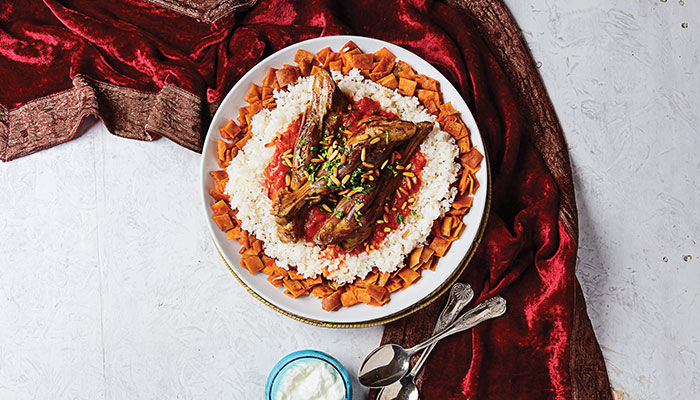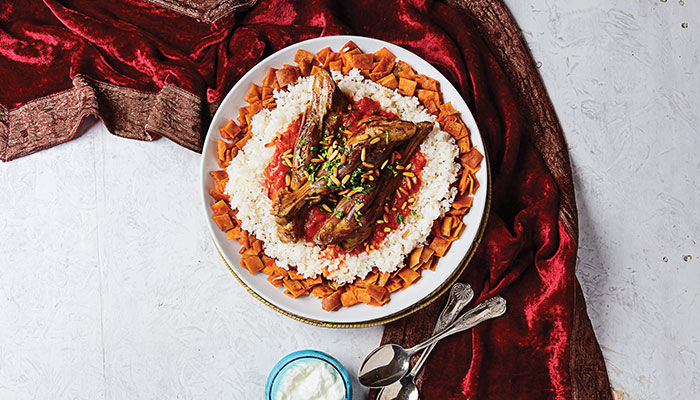 Beef Fatteh
Rich with contrasting flavours and textures, our beef fatteh is a showstopping twist on the much-loved original. In this complex-tasting, beautiful looking recipe toasted, broth-drenched bread is topped with fluffy rice, rich tomato sauce and tender, saffron-yogurt coated grilled beef for a knockout, celebration dish.
Goody Kitchen
Recipe by: Goody Kitchen
1

In a deep pot over the heat, stir the beef with a spoon of shortening and 5 mastics, until the beef's color changes; and then add the cardamom, bay leaves, nutmeg, and cinnamon; stirring constantly. Afterwards, add the onion, and stir well; and then pour the boiled water and add the salt and black pepper, and leave it on the heat until the beef is cooked.

2

Wash the rice, then place it in a pot over the heat, while adding a spoon of the shortening and 2 mastics; stir them and add a teaspoon of salt. Leave the mixture to boil for a couple of minutes; then lower the heat and leave it for 30 minutes until it is cooked.

3

 To prepare the red sauce: In a pot over the heat, heat a spoon of shortening and fry the garlic. Add the vinegar, followed by the soft sieved tomatoes, salt and black pepper; and then leave them for 15 minutes until the mixture is cooked.

4

Cut the bread into squares and toast them in the oven; afterwards, in a pot over the heat, heat the shortening and add the garlic; then stir them together with the bread and pour the beef's broth. Put a spoon of the ready-made red sauce on the bread mixture and mix them together for a minute.

5

To prepare the garnish: In a pot over the heat, heat the shortening and fry the garlic; then add the vinegar and a spoon of the red sauce; stir them together for a bit.

6

You can coat the beef with saffron and yoghurt; and grill it in the oven before serving.

7

In the serving dish, place the bread layer first, followed by the rice; then the red sauce, and finally the beef shanks, and serve hot.
%comment%
2 Replies
reply
Thank you, your comment is under review and will be posted as soon as approved
Lunch
Beef, fattah, Khaliji, "main dish"