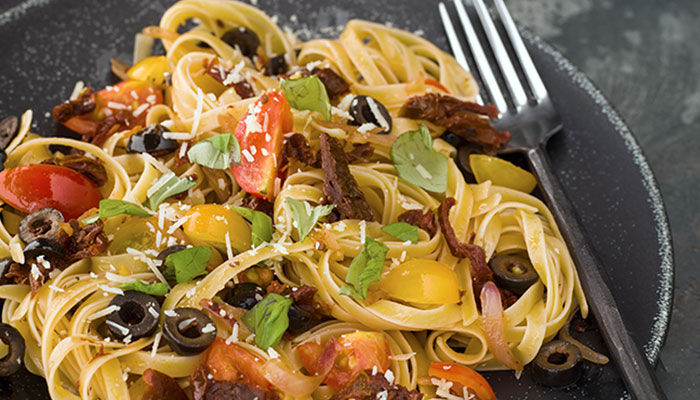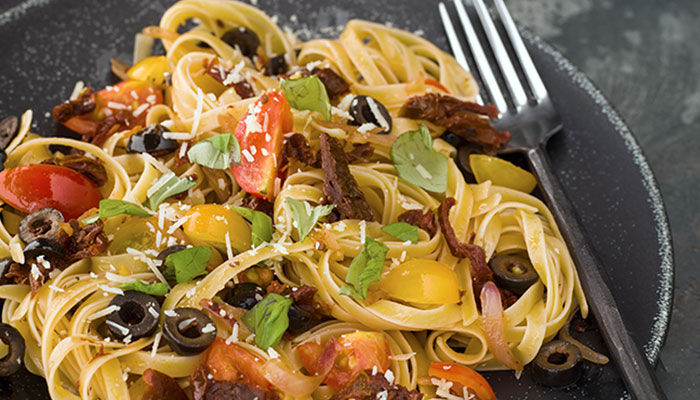 Fettuccini With Sundried Tomatoes
Combine olives, sun dried tomatoes, basil, garlic and parmesan for an easy-to-rustle-up, Mediterranean-inspired meal that can be on the table in under 30 minutes. The pasta ribbons are perfect for catching the sauce ingredients and if you fancy spicing things up, you could always finish this fettucine with sun dried tomatoes and a sprinkling of fresh chilli.
Goody Kitchen
Recipe by: Goody Kitchen
1

In a large frying pan heat the oil and sauté the onions and garlic. Add the sundried tomatoes, olives and extra oil and heat them.

2

Cook the fettuccini as per the instructions on the packet. And add it to the sundried tomatoes and olives. Mix together. Shred the basil leaves and add to the pasta; season with salt and pepper. Serve with a sprinkle of Parmesan cheese.
%comment%
2 Replies
reply
Thank you, your comment is under review and will be posted as soon as approved
Lunch
Fettuccini, Italian, "main dish", Pasta