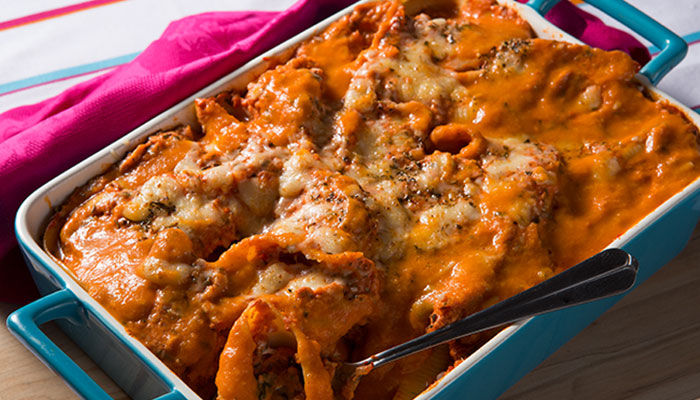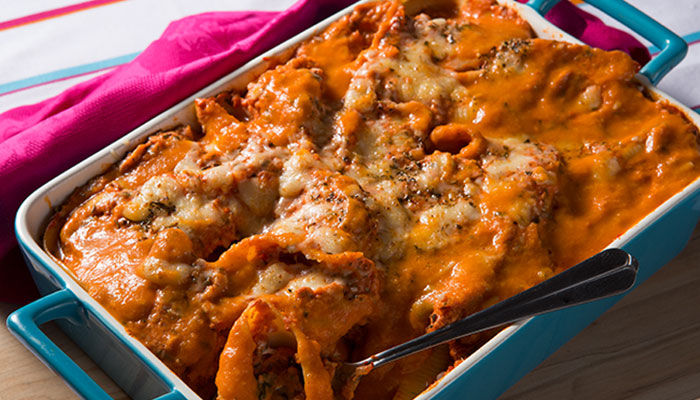 Stuffed Conchiglioni with Cheese and Tomato Sauce
Make this stuffed conchiglioni with cheese and tomato sauce once and your family and friends will consider you a pasta master forevermore. All you need do is fill pasta shells with a basil leaf-wrapped, three-cheese mix, cover with an aromatic homemade tomato sauce and bake and you've got yourself the ultimate easy and comforting yet altogether exciting Italian-inspired meal.

Goody Kitchen
Recipe by: Goody Kitchen
1

In a deep bowl, mix the 3 types of cheese, pepper, nutmeg, salt and black pepper. Mix well until thick.

2

Boil pasta until done. Set aside to cool. In the meantime, form the cheese mix into strawberry sized balls. Wrap each cheese ball with a basil leave. Stuff each pasta shell with a cheese ball. Place in a rectangle shaped Pyrex baking dish.

3

For the tomato sauce: In a deep pot, heat oil. Add the comments and garlic. Stir fry for 2 minutes. Add the stock and stir well. Add the pepper and stir for 2 minutes on low heat. Sprinkle some salt and black pepper. Add the canned tomatoes, oregano, basil, sugar and nutmeg. Stir continuously for 5 minutes on high heat. Add the white grape juice, stir well for 10 minutes on medium heat. Add the cheese and cream. Stir well and leave mixture on low heat for 10 minutes until it thickens. Turn off heat and leave sauce to cool well. Pure mixture in a blender until smooth and heat one more time.

4

Pour over the cheese stuffed pasta and sprinkle with mozzarella, parmesan and oregano, put it in the over for 10 minutes or till it's golden. Serve.
%comment%
2 Replies
reply
Thank you, your comment is under review and will be posted as soon as approved
Dinner
Conchiglioni, Italian, "main dish", Pasta