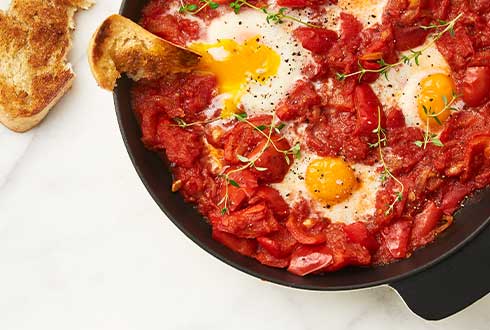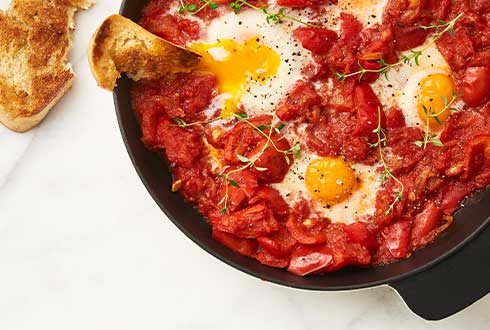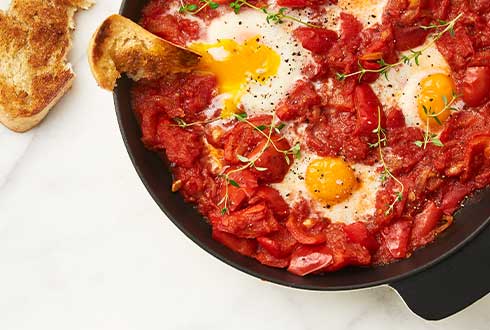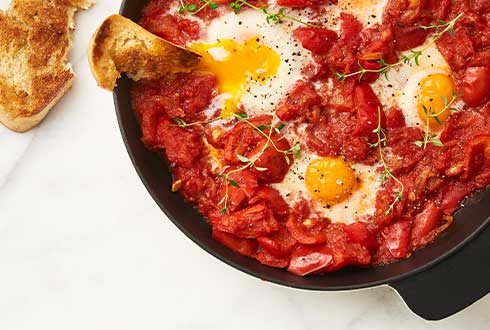 Shakshuka with roasted peppers and lemon-feta sauce
Shakshuka is a dish that could be considered for breakfast, lunch, brunch, or dinner. It's a one-skillet recipe of eggs baked in the oven with roasted red peppers, sieved tomato sauce spiced with fresh thyme leaves and lemon-feta sauce. Served with toasted sourdough on the side.
Goody Kitchen
Recipe by: Goody Kitchen
1

Preheat the oven to 180°C, gas mark 4. Put the peppers on a baking tray and drizzle with 1 tbsp olive oil. Roast for 12-15 minutes until the peppers begin to char.


2

Meanwhile, set a large ovenproof pan with the olive oil over a medium heat. Cook the onion for 6-7 minutes or until turning soft and translucent. Add the garlic, cook for 1 minute, then add the beef tomatoes, roasted peppers and sieved tomatoes and 200ml water. Season and cook for 8-10 minutes until the mix has thickened.


3

Use a spoon to make 4 pools in the sauce and crack the eggs into each one. Return to the oven for 6-8 minutes, or until the eggs are done to your liking.


4

Meanwhile, blitz the feta, mayonnaise and 2 tbsp water until smooth. Serve with the shakshuka and the toast. Garnish with thyme if you like.
%comment%
2 Replies
reply
Thank you, your comment is under review and will be posted as soon as approved