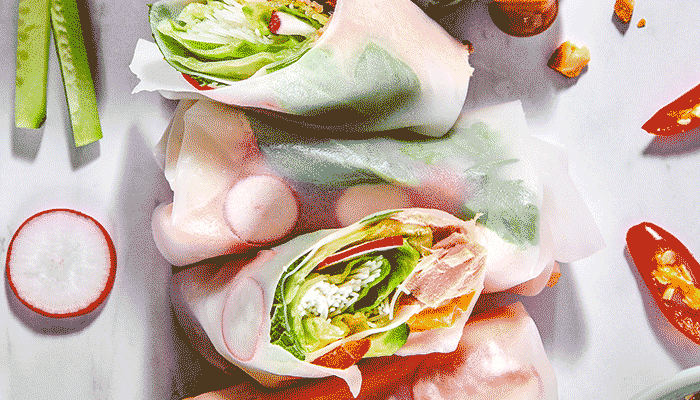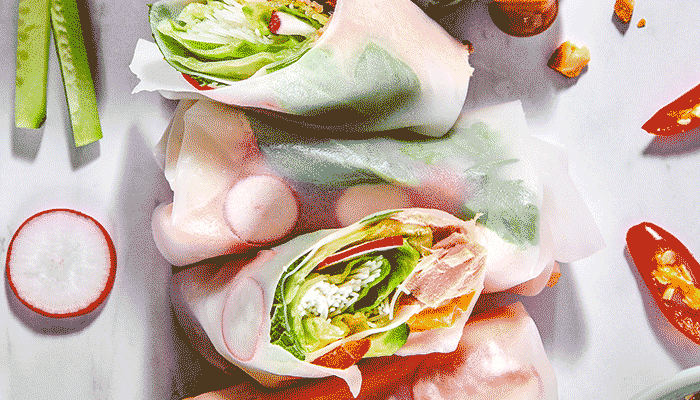 Spring Rolls with Satay Sauces
Add our Vietnamese rice paper rolls to your summer make-list. Crunchy vegetables, creamy tuna and fragrant herbs, all rolled up and served with two irresistible dips.
Goody Kitchen
Recipe by: Goody Kitchen
1

Blitz the chillies and garlic in a food processor. Put the water, sugar, vinegar and fish sauce in a saucepan with 1 tbsp salt and the chilli-garlic mix. Set over a medium heat and cook until the sugar dissolves. Simmer for 3-4 minutes, whisk in the cornflour, then simmer for 1 minute more. Cool then store refrigerated in jars.


2

For the satay dip, whisk together the peanut butter, soy sauce, honey or maple syrup, water and lime zest and juice. Season and set aside. Garnish with peanuts.


3

Mix the tuna and mayonnaise in a bowl. Fill a separate dish with boiling water big enough to fill the rice paper sheets.


4

To assemble the rolls, dip 1 sheet of rice paper into the water then lay flat on a surface. Add the avocado, snow peas, red pepper, carrot, cucumber, a spoonful of tuna and the herbs — fold over the bottom, tuck in both sides, then roll up tightly. Repeat with the remaining sheets and filling. Serve with the two dips.
%comment%
2 Replies
reply
Thank you, your comment is under review and will be posted as soon as approved