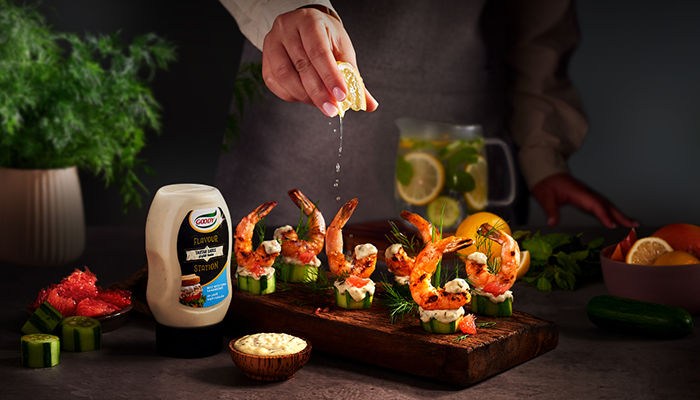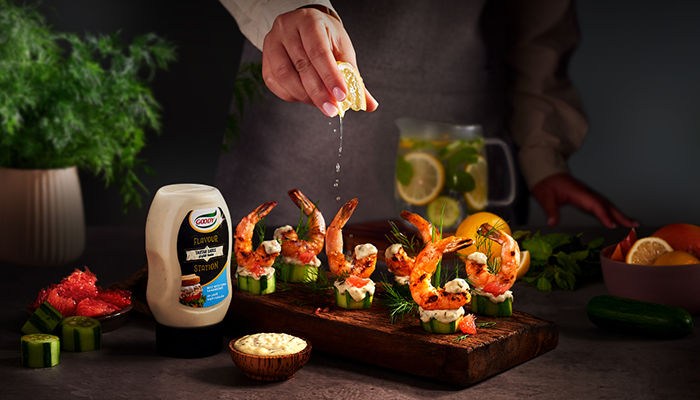 Shrimp Canapes With Tartar Sauce
For an innovative twist on the classic shrimp cocktail, our recipe for shrimp canapes with tartare sauce is elegant yet easy-to-put together and ideal for serving to a group of friends. Here, smoky, hot-off-the-grill shrimps sit atop a crunchy cucumber base spread with creamy tartare sauce. Each canape is then garnished with citrussy grapefruit segments for a perfectly balanced mouthful.
Goody Kitchen
Recipe by: Goody Kitchen
1

Place a griddle pan over a high heat.

2

Place the shrimp into a large bowl and toss with the olive oil, salt, pepper and smoked paprika.

3

Once the pan is almost smoking, place on the shrimp and cook for 2 minutes per side, or until the shrimp turn bright pink and translucent.

4

Use a peeler to peel stripes down the sides of the cucumber, about 1 cm apart. Slice the cucumber into 12 1inch rounds.

5

Slice the skin from the grapefruit and slice into eighths. Tear into bite sized pieces.

6

Spoon a tsp of Goody Tartare Sauce on top of each round. Top with a cooked shrimp, grapefruit pulp, dill and chives. Finish with a squeeze of lemon before serving.
%comment%
2 Replies
reply
Thank you, your comment is under review and will be posted as soon as approved
Lunch
appetizer, canapé, grilled, Mediterranean, Shrimp