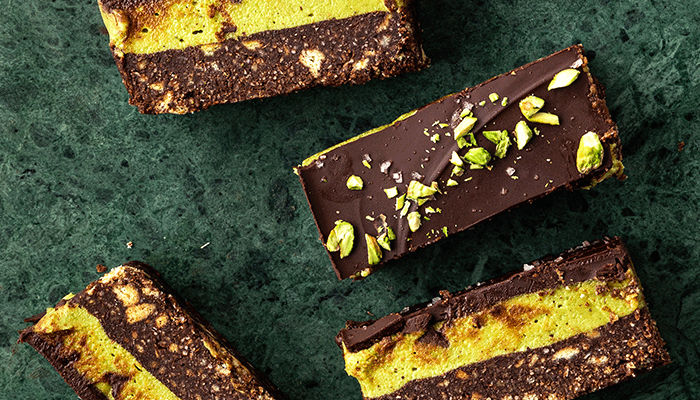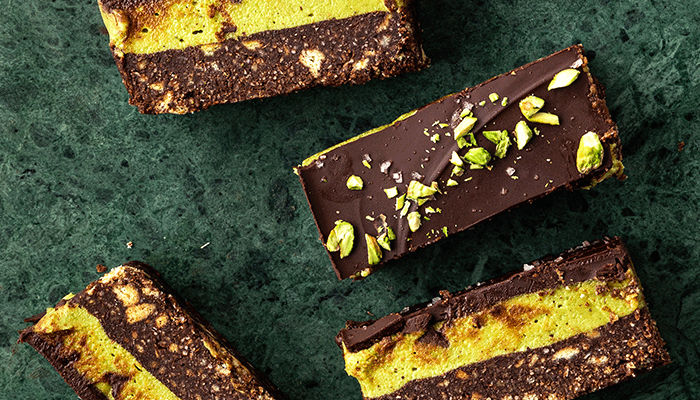 Chocolate Pistachio Slice
With a crunchy biscuit base, whipped pistachio butter layer and gleaming chocolate topping, this is a showstopper of a bake in every sense of the word. And while this chocolate pistachio slice looks ever so impressive, if you break the steps down it would be a perfect dessert for making with older children.
Goody Kitchen
Recipe by: Goody Kitchen
1

Line a 13 x 9 inch rectangular tin with baking parchment.

2

For the base, place the butter, cocoa powder, sugar and date spread into a large heatproof bowl. Set over a saucepan of barely simmering water, making sure the base of the bowl doesn't touch the water. Allow to melt and stir together until everything is smooth. Add the eggs and whisk for 2 minutes. Remove from the heat and stir through the digestive biscuits and coconut. Pour into the prepared tin and push flat with the back of a spoon. Place into the fridge to set while you prepare the remaining layers.

3

Preheat the oven to 180°C and spread the pistachios over a baking tray. Toast in the oven for 10 minutes. Tip into a high powered blender and blitz for 10 minutes, scraping down the sides at first if necessary. Add the honey and coconut oil and blitz for a further 2 minutes, until completely smooth.

4

Pour the icing sugar into a large bowl and rub the butter in until the mixture resembles breadcrumbs. Add in the whipping cream and pistachio butter and use an electric whisk to beat until smooth. Spoon the mixture over the biscuit base and chill in the fridge to harden for 2-3 hours.

5

For the chocolate layer, place the chocolate chips in a heatproof bowl set over a saucepan of simmering water, making sure the bottom of the bowl does not touch the water. Stir through the vegetable oil and pour over the pistachio layer. Sprinkle over the chopped pistachios. Place back into the fridge for a further 30 minutes until set.

6

Slice into 12 bars before serving.
%comment%
2 Replies
reply
Thank you, your comment is under review and will be posted as soon as approved
Desserts
Chocolate, coffee, Dates, Khaliji