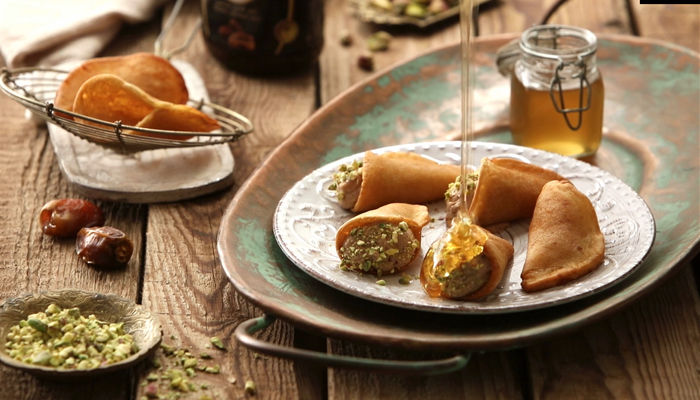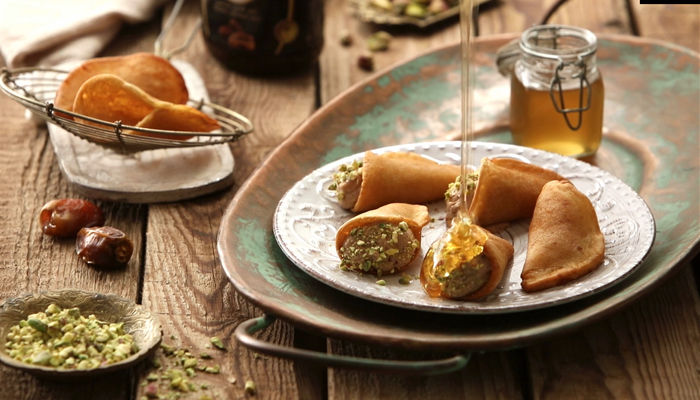 Cream and Dates Qatayef
Using ready-prepared qatayef dough is a great shortcut when preparing this classic sweet, leaving you more time to devote to getting experimental with the fillings. In this cream and date qatayef creation, Goody Date Spread is folded through Velor Cream and the stuffed qatayef are drizzled with sweet syrup for an irresistible end result.
Goody Kitchen
Recipe by: Goody Kitchen
1

In a medium mixing bowl, add the canned cream and the date spread and mix until well combined

2

To form the Katayef, close half of the Katayef and press to close one side to form a cone.

3

Add the Arabic Syrup in a medium bowl. Heat the vegetables oil in a deep frying pan, and start frying the Katayef until golden in color. Soak the fried Katayef in Arabic Syrup and transfer to a dish

4

Start by stuffing the Katayef with the cream and dates mix in each Katayef and garnish with the ground pistachios on top of the cream part.

5

Lay the prepared Katayef in the serving and serve with Arabic syrup on the side. Serve.
%comment%
2 Replies
reply
Thank you, your comment is under review and will be posted as soon as approved
Desserts
date, Dates, Dessert, Khaliji, Pistachio, Ramadan