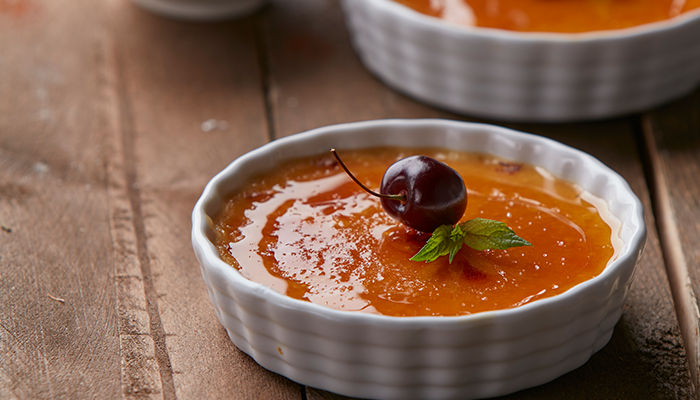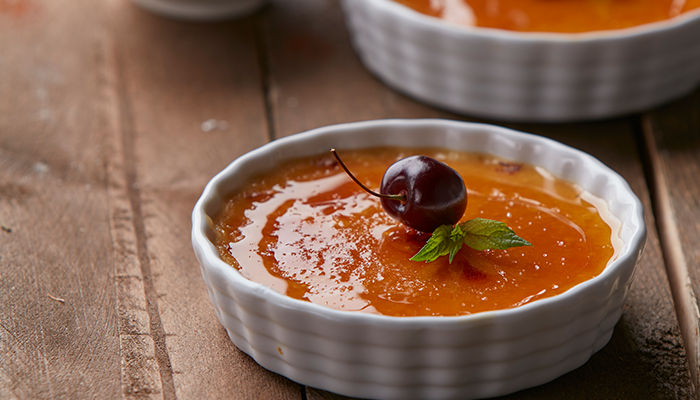 Crème Brulee
Crème brulee is one of those desserts that oozes elegance and sophistication. We've kept our version classic for reason; a crisp, gleaming golden sugar shell hides a smooth, rich custard layer beneath. If a blow torch is part of your kitchen kit, this is the ideal time to use it. If not, preheat your grill or oven to high to caramelise.
Goody Kitchen
Recipe by: Goody Kitchen
1

Heat the oven at a temperature of 300oC using the lower heat only.

2

In a deep bowl, mix together the egg yolk, sugar and vanilla using an electric mixer until incorporated.

3

Place a small deep pot over medium heat, and then add the milk, the whipping cream and the Velor cream until they are heated without being boiled. Add it gradually to the egg mixture; stirring constantly until the milk runs out.Pour the mixture in ceramic dishes specified for "Crème Brulee", and then place the dishes in a large deep sheet; fill it with hot water until it reaches half the level of the "Crème Brulee" dish. Place the sheet in the oven for 35 to 40 minutes.Afterwards, take out the sheet from the oven; let it cool at room temperature, and then refrigerate it until it cools completely.

4

Sprinkle a teaspoon of sugar on top of the "Crème Brulee" right before serving, and caramelize it using the kitchen lighter until it turns golden, or immediately place it on the upper rack in the oven and turn on the upper heat for a couple of minutes until it acquires the golden color, then serve.
%comment%
2 Replies
reply
Thank you, your comment is under review and will be posted as soon as approved