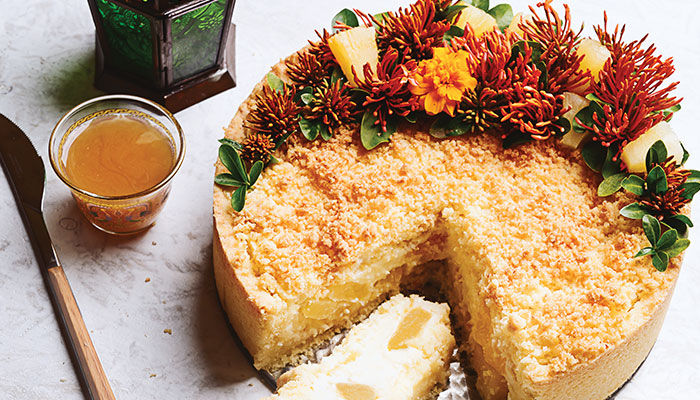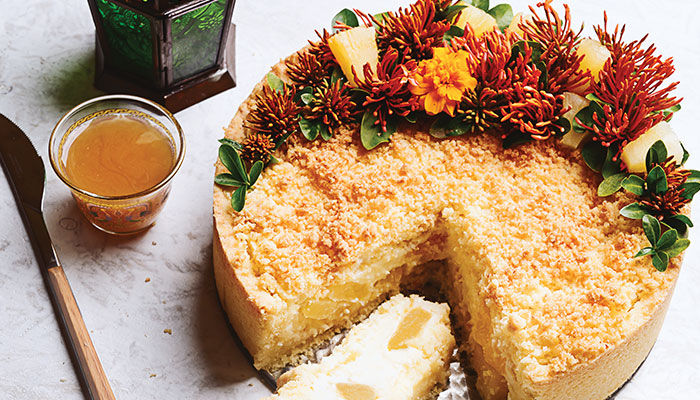 German Pineapple Tart
A recipe with serious wow-factor. The tinned fruit and coconut give this impressive layered German pineapple tart a fabulous tropical taste and beautiful colour. Bake just before you want to serve it, as it tastes best warm from the oven accompanied by lashings of cream or custard.
Goody Kitchen
Recipe by: Goody Kitchen
1

Heat the oven at 180oC.

2

Mix the butter with flour, coconut, and sugar until the mixture becomes homogenous, and an incorporated dough is formed.

3

Put ¾ of the dough in the sheet, and raise its edges a bit. Keep the remaining dough amount in the freezer.

4

In an electric mixer at high speed, whisk the egg whites until its size increases, and then set it aside.

5

Mix the filling ingredients well, then roll it out on the dough; and then roll out the egg white layer over the top.

6

Take out the remaining dough from the freezer, and grate it over the dough's top.

7

Bake the dough in the oven for 35-40 minutes until it is cooked and browned a bit.

8

Serve the tart hot with cream or liquid custard.
%comment%
2 Replies
reply
Thank you, your comment is under review and will be posted as soon as approved
Desserts
Dessert, pineapple, Tart