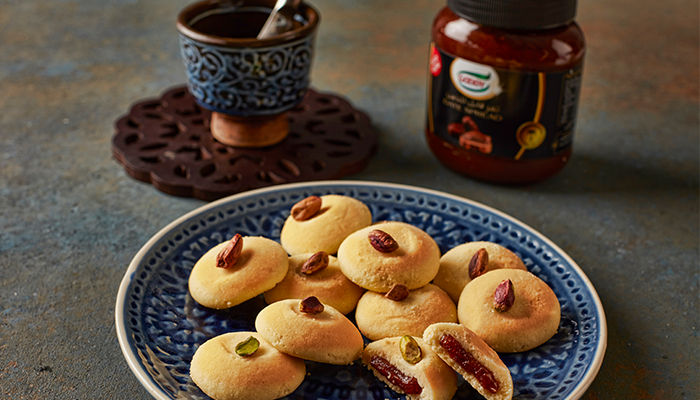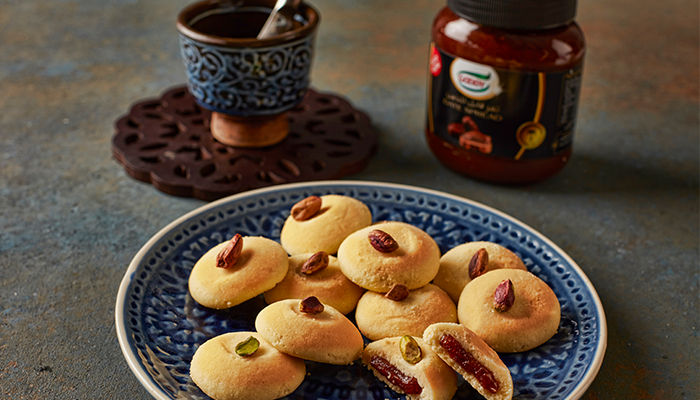 Ghorayba With Dates
These moreish, melt-in-the-mouth pistachio-studded cookies hide a sticky date stuffing within and are an ideal project bake, particularly during Ramadan. Take your time preparing this innovative recipe for ghorayba with dates and you'll be rewarded with sandy-textured, buttery biscuits that have just the right amount of sweetness.
Goody Kitchen
Recipe by: Goody Kitchen
1

In the mixer, add the butter, powdered sugar and rose water, start mixing on a low speed until the sugar is mixed with the butter, then increase the speed to medium until the mix is white and creamy.

2

In a bowl mix the flour, cardamom powder and salt. Add the flour mix to the mixer and mix on low speed for 2 minutes then increase the speed to medium and mix until the mixture is well combined. The mix should be very soft but not sticky. Leave the mix to rest for at least 1 hour

3

Prepare the stuffing, in a small mixing bowl, add the date spread, cinnamon powder, and Velor cream and mix well.

4

Preheat the oven to 180 degrees C. Line a baking sheet with parchment paper.

5

Start by shaping the filling into small balls (size of a pistachio)

6

Take a teaspoon of the Ghorayba mix and shape it into a small ball, lightly press to flatten it, add the date stuffing ball in the center and gently fold the Ghorayba to close on the stuffing and very gently form into a ball. Place on the baking dish and place a pistachio on top. Repeat with the remaining quantity.

7

Place in the oven for 10 minutes until cooked. Remove from the oven and leave to cool down completely before taking off from the baking dish. Serve.
%comment%
2 Replies
reply
Thank you, your comment is under review and will be posted as soon as approved
Desserts
date, Dates, Dessert, Khaliji, Ramadan