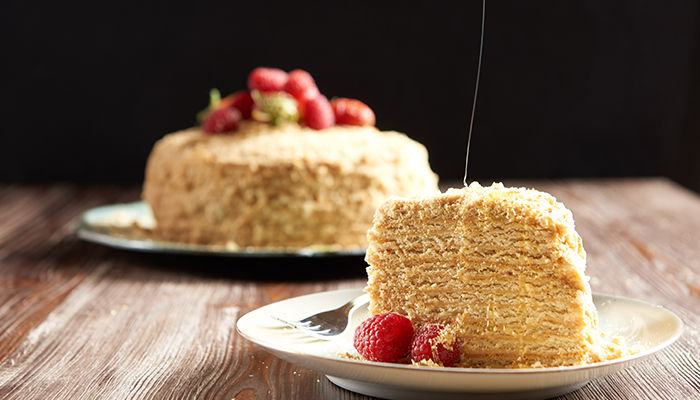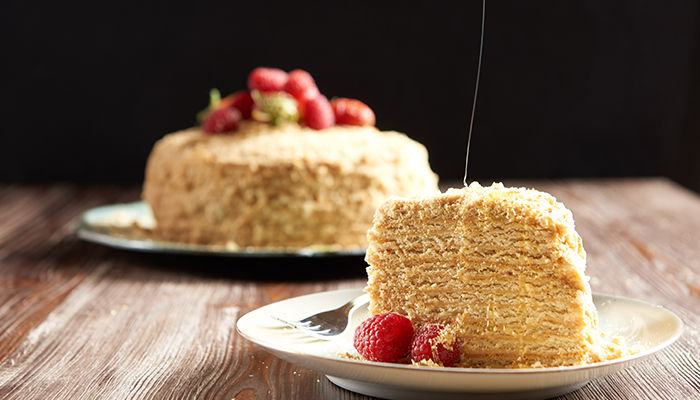 Honey Cake With Caramel Filling
Our contemporary take on a classic bake. This tiered honey cake with caramel filling features multiple layers of light and airy sponge, each one spread with a decadent, homemade sweet caramel layer and finished with a walnut crumb. While it takes a little time and effort to prepare, the showstopper results speak for themselves.
Goody Kitchen
Recipe by: Goody Kitchen
1

Preheat the oven at 180 °C.

2

In a bowl in water bath, melt the butter with the sugar and honey. Remove the bowl from the water bath, then add the eggs (so that the eggs are not cooked) and beat well. Put the bowl back into the water bath. Combine the baking soda with the white vinegar then add them to the mix and mix well. Add half of the flour; mix well with the rest of the ingredients until it forms a smooth dough, then remove the bowl from the water bath.

3

Roll out the dough on a surface sprinkled with flour, then add the rest of the flour and knead well until you have cohesive dough. Divide the dough into 10 equal balls.

4

Spread each dough ball on wax paper forming a medium-size circle, then bake each piece of dough individually for 4 min. Repeat until all the dough balls are baked. 

5

Caramel Filling:Remove the paper from around the condensed milk can, put the can in a pot filled with water and bring it to boil for 3 hours. Don't forget to add more water when it evaporates. Remove the can from the pot and let it cool down for 2 hours. Do not try to open it before the liquid is cool (as it may explode). You can do this step the previous day and keep the can in the refrigerator when you prepare the cake. 

6

Beat the margarine with cream, honey and vinegar, and then add the caramelized sweet condensed milk. Beat well until cream is formed. 

7

After baking the cake's layers, cut them into smaller circles using the round cake base. 

8

Spread caramel on each layer, and then spread it on the outside of the cake from all sides, so that it is completely covered with caramel. Leave the cake in the refrigerator for 15 minutes. 

9

Grind the leftovers of the cake with a cup of walnuts.

10

Take the cake out of the refrigerator and cover it with the cake and walnut crumbs. 
%comment%
2 Replies
reply
Thank you, your comment is under review and will be posted as soon as approved
Desserts
cake, Caramel, Dessert, honey, Ramadan