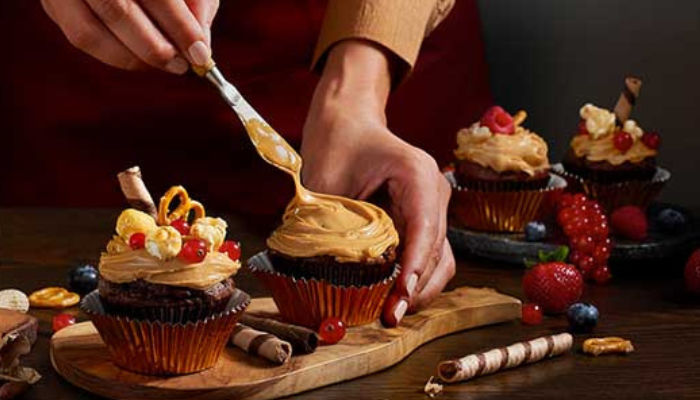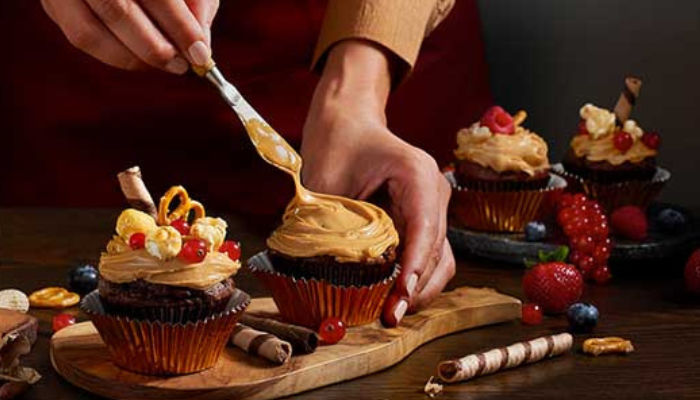 Peanut Butter Cupcakes
Everyone loves a good cupcake and these peanut butter cupcakes are very good indeed. A fun alternative to a large cake and perfect for serving at birthday parties, once baked we suggest spreading the individual cakes with swirls of Goody Natural Peanut Butter instead of frosting and then going extreme with the toppings, think popcorn, pretzel hearts, berries and chocolate wafers.
Goody Kitchen
Recipe by: Goody Kitchen
1

Preheat the oven to 180°c and line a 12 holed cupcake tin with cupcake cases.

2

In a large bowl, whisk together the flour, cocoa powder, caster sugar, baking powder and salt.

3

Rub in the butter with your fingers until the milk resembles breadcrumbs.

4

In a jug, whisk together the egg and vanilla extract. Beat into the flour mixture using an electric whisk, until the batter is smooth.

5

Divide the batter between the cupcake cases, until they are each ¾ full. Place into the oven for 12-15 minutes, until golden brown and a skewer inserted comes out clean. Remove to a wire rack to cool completely.

6

Use a tablespoon to swirl peanut butter onto the top of the cupcakes before decorating with popcorn, pretzels, chocolate straws and cowberry jewels.
%comment%
2 Replies
reply
Thank you, your comment is under review and will be posted as soon as approved
Desserts
American, cake, Cocoa, Dessert, PeanutButterQR