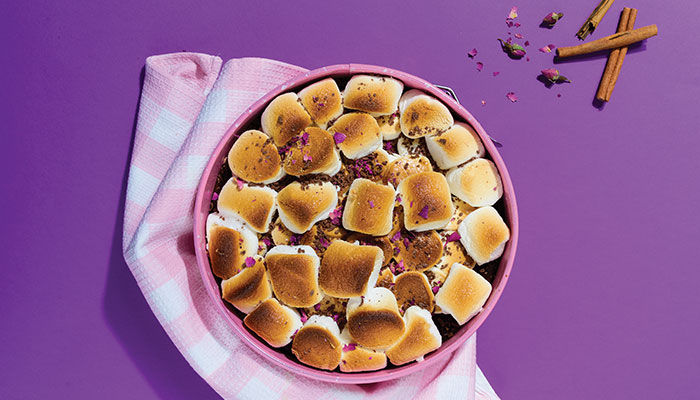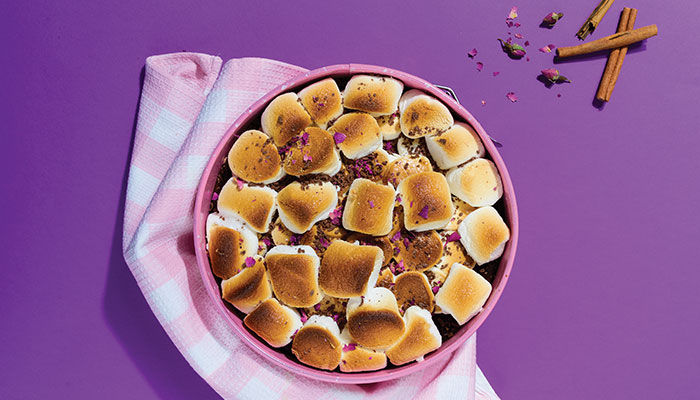 S'Mores Kunafa
When only a seriously sweet, ever so indulgent, entirely original dessert will do, s'mores kunafa is the answer. This dessert takes the best elements of kunafa (the crunchy, golden, buttery pastry) and adds a s'mores-inspired element in the form of peanut butter-infused chocolate ganache and lightly caramelised marshmallows. If that sounds complicated, fear not, our recipe walks you through every step.
Goody Kitchen
Recipe by: Goody Kitchen
1

 Heat the oven at 200oC.

2

 Separate the kunafa and stir it with sugar and cinnamon; then add the butter and rub them well.

3

 In a 10 inch circular sheet, stack the kunafa and press it well. Put the sheet in the oven for 25 minutes until it is browned.

4

To prepare the Ganach, in a pot over the heat, heat the cream until it reaches the point before boiling. Pour it over the chocolate and leave it for 30 seconds; then stir them together. Add the peanut butter with chocolate and stir together until the mixture is incorporated.

5

 Pour the Ganach layer over the kunafa; then cut the marshmallow pieces using scissors and stack them on the top. Put the sheet in the oven once more in the upper rack until it is browned; and garnish with dried roses.
%comment%
2 Replies
reply
Thank you, your comment is under review and will be posted as soon as approved
Desserts
American, Chocolate, Kunafa, Lebanese, Ramadan