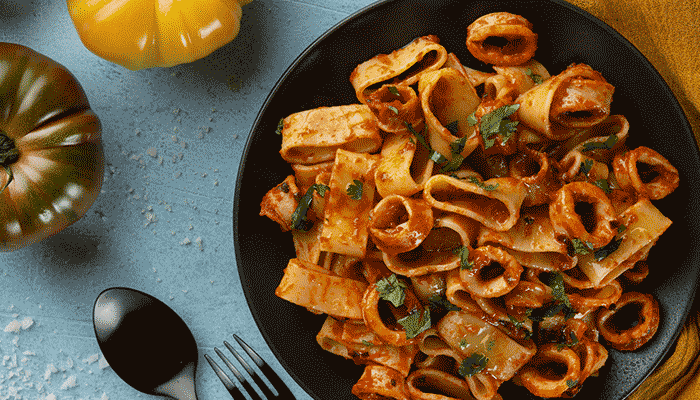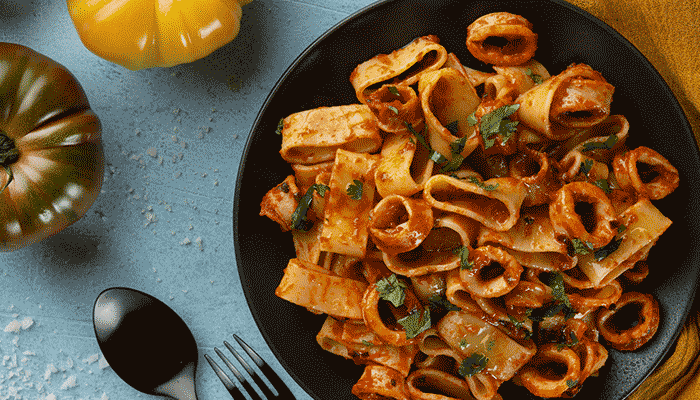 Calamarata Pasta
Calamarata Pasta makes a tasty first course or as it's known in Italian a "primo". But it can also be a filling main course when served with delicious ciabatta garlic bread or other sides.
Goody Kitchen
Recipe by: Goody Kitchen
1

Slice the calamari in thick rings similar to the pasta size. Cut the wings into strips and cut any long tenticles into shorter lengths. Use paper towel to dab quickly to remove excess moisture. Set aside until needed.

2

In a cold frying pan put olive oil, garlic and red pepper flakes. Then set the pan over medium heat until the garlic is fragrant.
Add cleaned and chopped squid to the pan. Stir until the squid becomes white. This will only take a minute or twoStir in the tomato passata, parsley and salt. Bring the sauce back to a simmer.

3

Cover with a lid and simmer gently for 30 minutes or so over low heat. Stirring regularly. You may need to adjust the heat to maintain a simmer.

4

Meanwhile, bring a large pot of well salted water to a boil, add calamarata pasta and cook until al dente, then drain. Reserve a cup of the pasta water.

5

Stir the pasta into the sauce. Add a little of the pasta water if needed and stir well.
Serve with extra parsley and a drizzle of olive oil. Never sprinkle grated parmesan cheese on seafood pasta - it won't be good.
%comment%
2 Replies
reply
Thank you, your comment is under review and will be posted as soon as approved