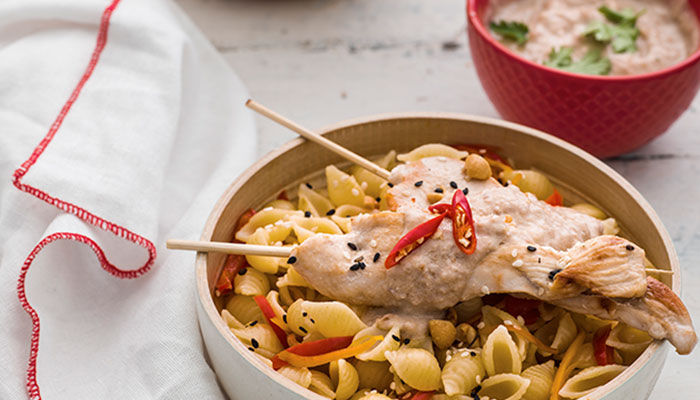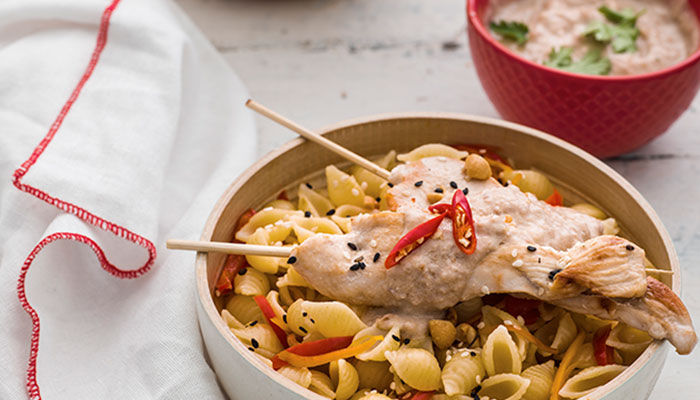 Chicken Satay With Conchigli
Take a weeknight pasta dinner in a new direction with this recipe for chicken satay with conchiglie. Combining flavours and preparation techniques from the East and West, marinated chicken skewers are perched atop pasta pieces covered with a fragrant satay sauce rich with coconut milk for a fun, people pleaser of a dish.
Goody Kitchen
Recipe by: Goody Kitchen
1

Slice the chicken into strips and leave to marinate in salt and pepper and sesame oil for 30 minutes

2

Thread the chicken strips onto the wooden skewers and place in a preheated oven at 180 degrees for 15 minutes or until slightly browned.

3

In a saucepan, heat the coconut milk and add the ground peanuts. Add the soy sauce, brown sugar, garlic and lemon juice. Let it simmer for 20 minutes and reduce by half. Add salt to taste.

4

Cook the pasta as per the instructions on the packet. Drain

5

In a frying pan, heat the sesame oil and sauté the julienned red peppers and carrots. Season and add the pasta;sprinkle the sesame seeds on top.

6

Serve the pasta into 4 portions. Add the chicken skewers on top and pour on the satay sauce. Sprinkle the chopped peanuts to garnish.
%comment%
2 Replies
reply
Thank you, your comment is under review and will be posted as soon as approved
Lunch
Asian, Conchigli, Italian, "main dish", Pasta, Sata