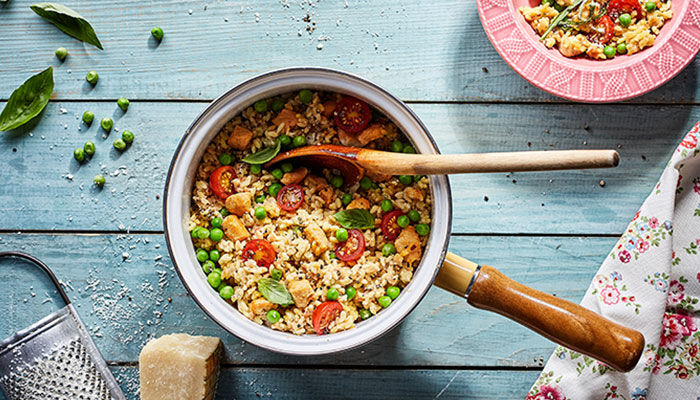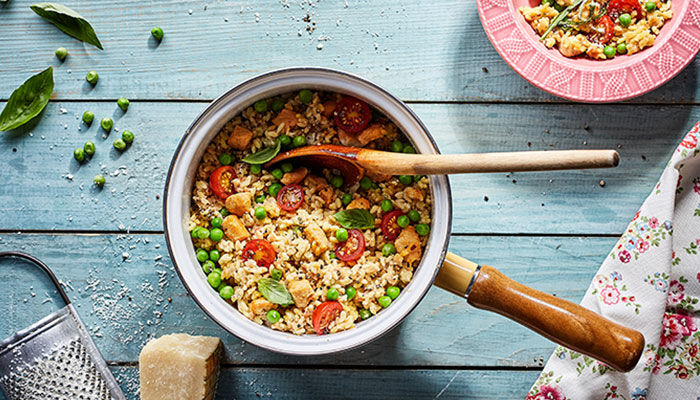 Creamy Orzo With Chicken and Peas
Somewhere between a pilaf and a broth, this easy recipe uses store cupboard ingredients and freezer favourites to produce a fragrant, wholesome dish that's light and summery yet filling and comforting too. Serve our creamy orzo with chicken and peas with parmesan for scattering.
Goody Kitchen
Recipe by: Goody Kitchen
1

In a small bowl, whisk together the eggs and Parmesan. Set aside.

2

In a medium skillet over medium-high heat, heat the olive, add the chicken and cook until it changes its color for 4 minutes. Add the onions and cook, stirring until softened and fragrant for 2 minutes. Stir in the orzo and toast for 3 minutes. Add 4 cups water and the salt reduce the heat to medium low and simmer for 8 minutes, stirring often to prevent sticking. 

3

Stir in the tomatoes and peas. Cook until the orzo is al dente, for another 3 minutes.
%comment%
2 Replies
reply
Thank you, your comment is under review and will be posted as soon as approved
Lunch
Italian, "main dish", Orzo, Pasta