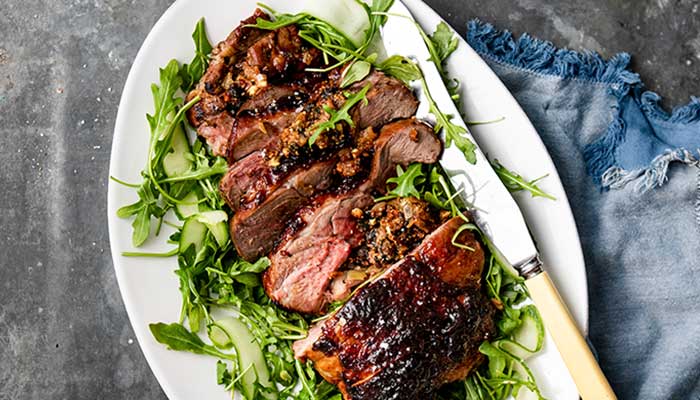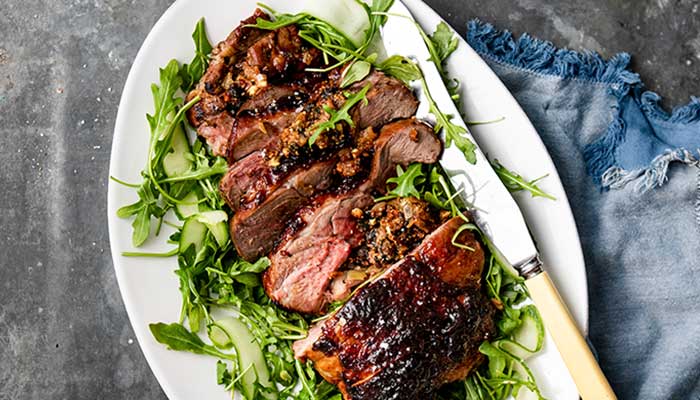 Date-Glazed Lamb Shoulder
Rich with sweet dates, smooth, salty feta and Goody Smoked BBQ Sauce, this stuffed, rolled and date-glazed lamb shoulder is a truly sensational crowd pleaser of a dish. Served on a mound of fresh green salad leaves this is a modern classic that would be perfect for Eid Al-Adha.
Goody Kitchen
Recipe by: Goody Kitchen
1

Put the spinach in a colander and pour over a kettle full of boiling water to wilt it completely. Allow to cool, then place in a clean tea towel and squeeze out all of the remaining water. Finely chop and set aside until needed.

2

For the stuffing, set a frying pan with the olive oil over a medium heat. Cook the onion for 5-6 minutes until beginning to turn soft and translucent. Add the garlic and continue to cook for a further minute. Stir through the chopped spinach and remove from the heat. Tip into a bowl and allow to cool to room temperature.

3

Stir through the figs, feta and date spread. Season and set aside until needed.

4

For the glaze, whisk together the garlic, BBQ sauce, date paste and honey. Slowly pour in the olive oil until the mixture is thick.

5

Preheat the oven to 200°C.

6

Place the lamb skin-side down on a chopping board and place the stuffing in the centre. Wrap the meat around the stuffing, using butchers string to tie it tightly. Place the joint skin side up in the centre of a roasting tray.

7

Brush generously all over with the date glaze and sprinkle with the flaked salt.

8

Transfer to the oven and immediately turn the heat down to 160°C. Roast for 1 hour 30 minutes, brushing with the glaze every 30 minutes. Cover with tin foil for the last 30 minutes if the top begins to catch.

9

Rest for 20 minutes before serving.
%comment%
2 Replies
reply
Thank you, your comment is under review and will be posted as soon as approved
Lunch
Dates, Lamb, "main dish", Shoulder, Smoked