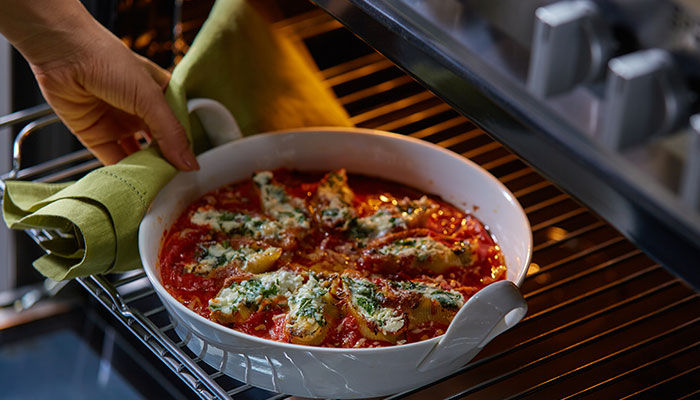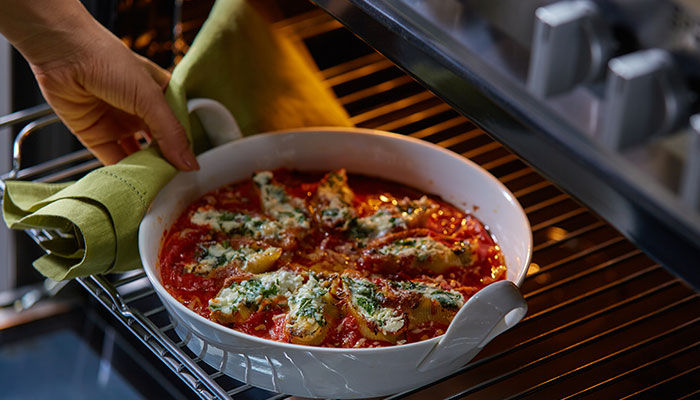 Enchiladas Stuffed Shells
A taste of Mexico packaged up in tender pasta shells and baked under a blanket of cheese. Need we say more about this recipe? We could add that these enchilada stuffed shells are as fun to eat as they are to prepare and would make for a real family feast served with mounds of tortilla chips, guacamole and sour cream.
Goody Kitchen
Recipe by: Goody Kitchen
1

Preheat oven to 180 degrees C.

2

In a large pot of salted boiling water, cook pasta according to package directions until al dente. Drain.

3

In a large sauce pan over medium heat, add oil. Add onions and cook until translucent, about 2 minutes. Add garlic and cook until fragrant, about 1 minute. Season with cumin, salt and pepper.Add red sauce to the pan, stirring to combine. Bring to a bubble and let thicken slightly, about 5 minutes. Remove from heat.

4

In a mixing bowl, add the chicken, add 1 cup of the prepared sauce, 1 cup of cheese, and the cilantro. Season with salt and pepper and stir to combine.

5

Spoon a thin layer of sauce in the bottom of a large casserole dish. Stuff chicken mixture into shells and arrange stuffed shells on top of sauce, side by side. Spoon remaining sauce over shells and sprinkle with remaining cheese.

6

Bake for 30 minutes, or until the cheese is bubbly and the rest is warmed through. Cool slightly, top with cilantro and serve.
%comment%
2 Replies
reply
Thank you, your comment is under review and will be posted as soon as approved
Dinner
Chicken, Conchigli, Enchilada, "main dish", Mexican, Napoletana, Pasta, sauce