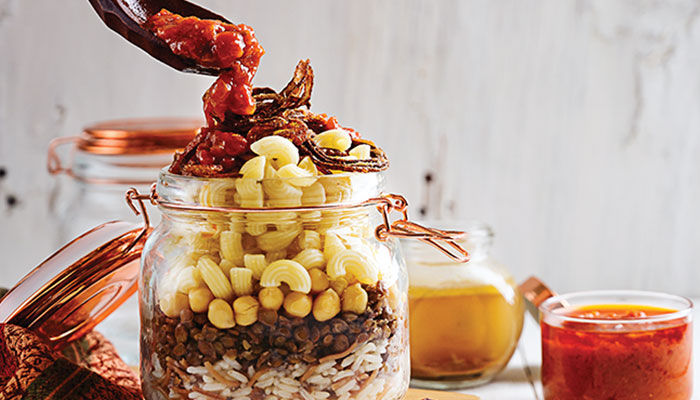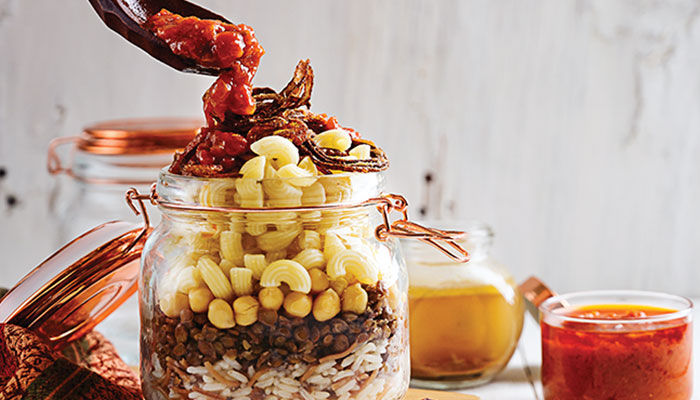 Koshary Jar
This recipe takes the on-trend salad jar idea and fills it with the ingredients and flavours associated with the Egyptian street food, koshary. The results look fantastic, taste great and thanks to the wholesome ingredients list – protein-packed chickpeas, brimming-with-fibre lentils, antioxidant-rich tomatoes – a koshary jar is a convenient, healthy lunch that can be enjoyed home or out and about.
Goody Kitchen
Recipe by: Goody Kitchen
1

Soak the brown lenPls for 30 minutes.

2

Drain and rinse. Boil lenPls in pot of salted water for 15-20 minutes. Set aside keeping warm.

3

Boil the white rice and then drain. Set aside keeping warm.

4

Break the vermicelli noodles into small pieces. Shallow fry in vegetable oil unPl golden. Mix the vermicelli into the warm rice.

5

Boil the macaroni and drain. Set aside keeping warm. Gently warm the chickpeas in a frying pan and set aside.

6

In a large fry pan heat the oil. Sauté onion unPl golden. Add the garlic, coriander, and chilli flakes. SPr unPl combined. Add the Goody sieved tomatoes and seasoning. SPr and warm through for around 12 minutes. Add the vinegar and sPr. Set aside.

7

Sauté garlic in oil unPl fragrant. Mix in the powdered cumin and coriander. Add vinegar, water and salt. SPr unPl combined. Add the lemon juice and chilli powder. When cooled, transfer to a glass boQle. The dressing ingredients do split, so a good shake is required to combine them before drizzling onto your Koshari base.

8

Slice the brown onion into super-fine onion rings. Lightly dust in the flour and then shallow fry in batches. When crispy and golden, transfer onions to tray lined with absorbent kitchen paper.

9

Start by arranging the jar by placing rice and a layer of pasta, then the sauce, and garnishing it with crunchy fried onions.
%comment%
2 Replies
reply
Thank you, your comment is under review and will be posted as soon as approved
Lunch
Elbow, "main dish", Mediterranean, Pasta, Ramdan