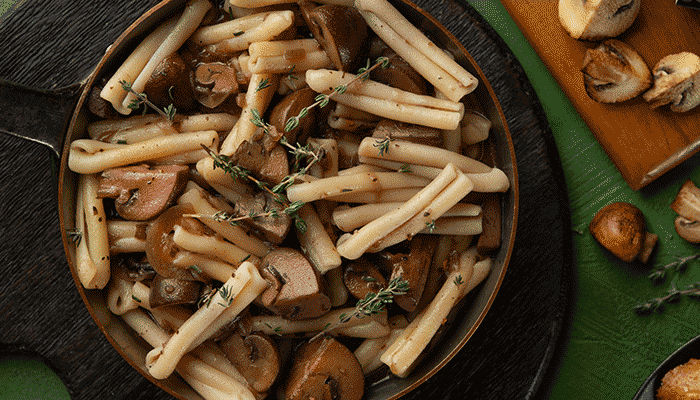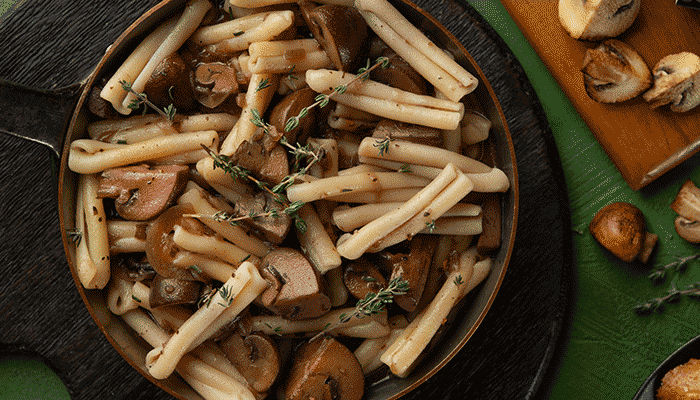 Marsala Mushroom Casarecce Pasta
Here is a rich and delicious pasta dish that is great with most varieties of mushrooms! This Marsala Mushroom Casarecce Pasta is packed full of rich mushroom flavor and is perfect with your favorite mushrooms!
Goody Kitchen
Recipe by: Goody Kitchen
1

In a large pot of boiling, salted water, add the pasta and cook until al-dente. Strain the pasta, reserving ½ cup of the water. In a large bowl, toss the pasta with the mushrooms and use pasta water to thin if necessary. Serve. Once tender, uncover, turn the heat up to medium high for one minute. Add the marsala and cook for just 2 minutes. Add the stock, tarragon, parsley, the other 1 tsp of salt and 1 tsp of the lemon juice. Turn the heat to high and bring the mixture to a simmer, then reduce to medium to medium-low and simmer for 25 minutes. The mixture should have thickened somewhat and reduced at this point.

2

Once reduced, remove from the heat and stir in the remaining 3 Tbsp of butter 1 at a time and add the last tsp of lemon juice. Taste for salt and add if desired.
%comment%
2 Replies
reply
Thank you, your comment is under review and will be posted as soon as approved