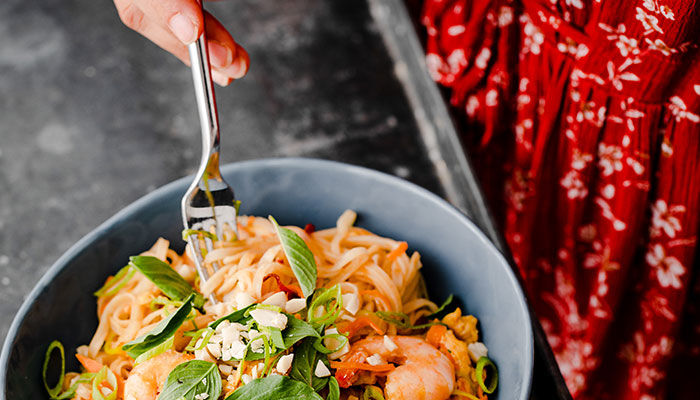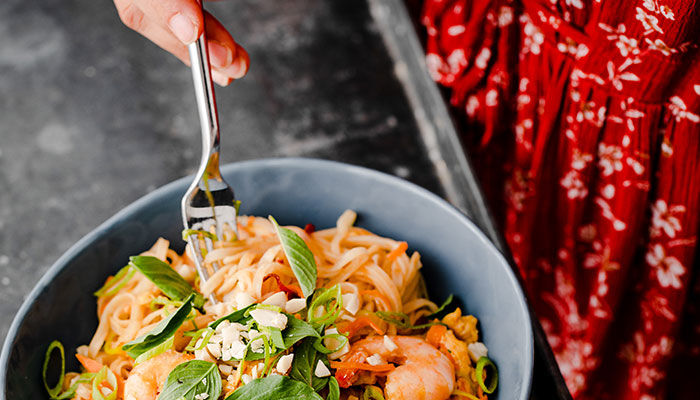 Prawn And Peanut Butter Pad Thai
Perfect pad Thai is a revelation, not to mention a taste sensation. Our version of the famous Thai street food dish features layer upon layer of sweet, sour, spicy flavour. Follow the steps in this prawn and peanut butter pad Thai recipe for a delectable, noodle-based stir fry that will delight all who try it.

Goody Kitchen
Recipe by: Goody Kitchen
1

Cook the noodles according to pack instructions. Set aside.

2

Whisk together the peanut butter, lime juice, fish sauce, soy sauce, brown sugar and tamarind sauce in a large bowl. Set aside.

3

Set a large frying pan or wok with the olive oil over a medium-high heat.

4

Add the prawns, garlic, carrot and spring onion to the pan. Sauté for 2-3 minutes, then push the prawns and vegetables to one side of the pan and add the eggs. Stir until scrambled then stir through the prawns and vegetables.

5

Add the noodles and sauce to the pan and stir so that everything is well coated. Cook for a further 2 minutes.

6

Divide among plates and top with the peanuts, herbs and lime wedges before serving.
%comment%
2 Replies
reply
Thank you, your comment is under review and will be posted as soon as approved
Dinner
Asian, "main dish", noodles, salad, shrimp