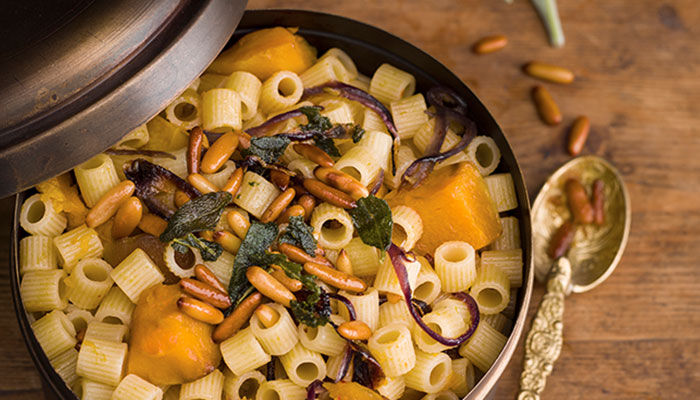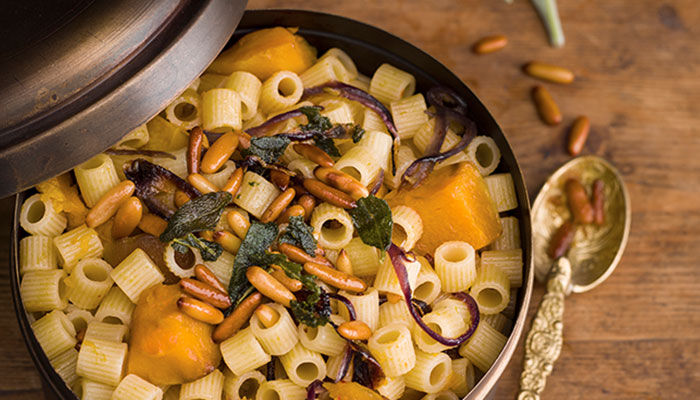 Roasted Squash With Sage Butter Sauce
This spectacular tasting dish has a high-end restaurant feel to it. Baking squash with aromatic garlic, heady sage and chilli until soft, sweet and yielding elevates the vegetable to a whole new level, while toasting the pine nuts in beurre noisette adds a wonderful decadence to this roasted squash with sage butter sauce pasta.
Goody Kitchen
Recipe by: Goody Kitchen
1

Preheat the oven to 200oC

2

Put the squash in olive oil with garlic, sage leaves, onion slices and chili flakes, and then season with sea salt and pepper. Place on a baking sheet and roast in the oven until the butternut squash becomes crispy. Rotate the pan half way through baking.

3

Cook the Digatilini Rigats according to package instructions. Drain and set aside.

4

Heat butter in a frying pan till it becomes foamy. Fry the pine nuts until they turn golden. Remove from pan and set aside. Add the sage leaves to the pan and fry until crispy. Remove half the leaves from the pan. Add the squash and pasta; toss to combine. Crush the remaining sage leaves on top and sprinkle with parmesan cheese to serve.
%comment%
2 Replies
reply
Thank you, your comment is under review and will be posted as soon as approved
Dinner
Ditalini, Italian, "main dish", Pasta, Rigats