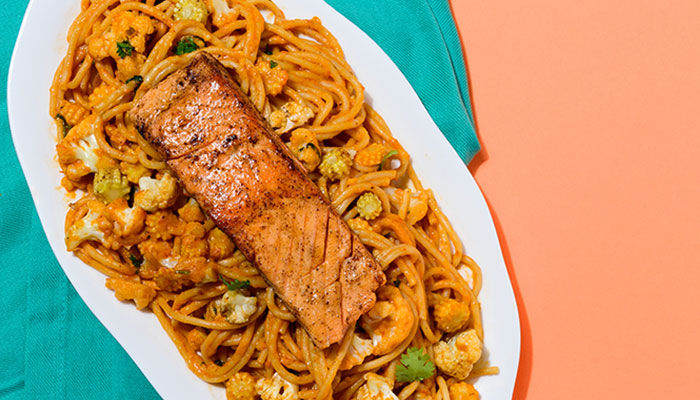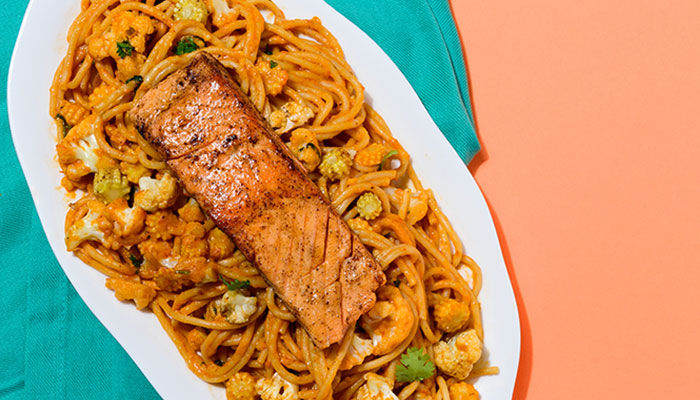 Rosee Spaghetti With Salmon
Simply cooked grilled salmon fillets perch atop al dente pasta ribbons clinging to a delicate, blush pink, veg-packed sauce made possible thanks to Goody Rosée Pasta Sauce in this luscious recipe. Our rosée spaghetti with salmon is indulgent, impressive and guaranteed to please your family.
Goody Kitchen
Recipe by: Goody Kitchen
1

In a pot over the heat, place 3 tablespoons of salt in the pasta boiling water; then add the pasta in the water and leave it to boil for 11 minutes. After boiling the pasta, drain it immediately from water, while only keeping half a glass of the pasta boiling water.

2

Season the salmon with a slight dash of salt and black pepper according to taste.

3

In a large pan over medium heat, place a tablespoon of butter followed by the salmon pieces and grill for a couple of minutes on each side. Take the pan off the heat and place the salmon in a side dish to rest.

4

Using the same pan without cleaning it, place a tablespoon of butter and 2 tablespoons of olive oil; then add the cauliflower, corn, garlic cloves, salt, and black pepper; and stir together for a couple of minutes. Afterwards, add the Rosée sauce; stirring constantly for a couple of minutes; then add the coriander and lemon and leave them on the heat for a couple of minutes until the ingredients are incorporated together.

5

Add the boiled pasta to the previously prepared sauce and half a cup of pasta boiling water and two tablespoons of parmesan cheese; stir together for a minute over the heat.

6

In the serving dishes, divide the pasta to 4 dishes and place a piece of salmon on top of each dish. Garnish the dish with a little coriander and parmesan cheese, and serve immediately."
%comment%
2 Replies
reply
Thank you, your comment is under review and will be posted as soon as approved
Dinner
Cauliflower, Goody, Italian, "main dish", Pasta, Quinoa, Rosee, sauce, Spaghetti