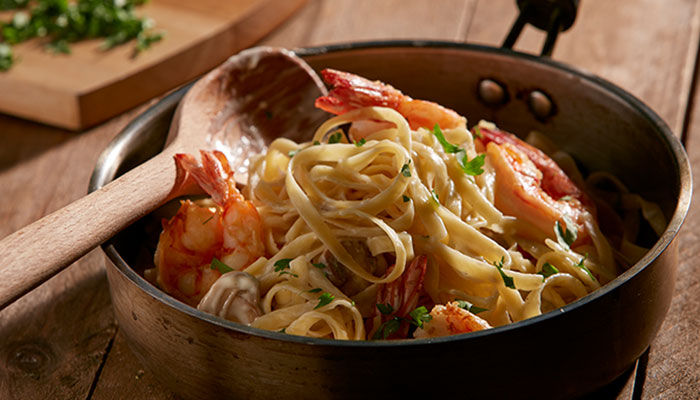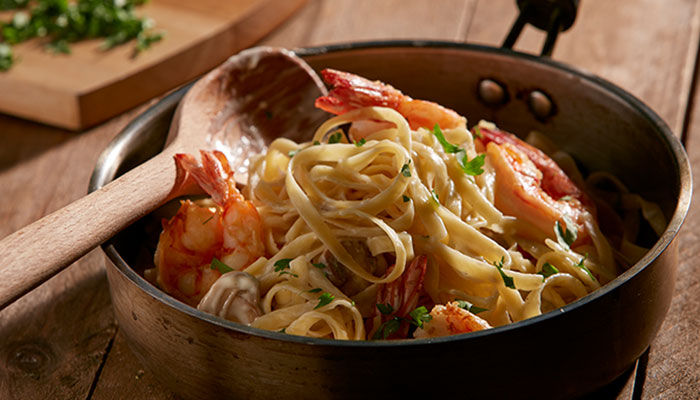 Shrimp Fettuccine Alfredo
A sophisticated meal that takes mere minutes to pull together thanks to a few short-cut ingredients. In this decadent dish freshly cooked pasta is stirred through a silky, double cream and mozzarella sauce resplendent with plump pink prawns. Shrimp fettucine Alfredo is a recipe to savour, time and time again.
Goody Kitchen
Recipe by: Goody Kitchen
1

Boil the pasta as indicated on the package, and set it aside.

2

Place the butter in a deep pot until it melts. Add the garlic until it welts. Add the shrimps until their color changes. Add the mushrooms. Then immediately add the milk, cream, Alfredo sauce and chicken stock cube. Season with salt and black pepper and leave it to boil for 5 minutes. Finally, add the mozzarella cheese.Afterwards, pour the mixture over the pasta; then place it in the serving dish, and garnish with basil or parsley leaves.
%comment%
2 Replies
reply
Thank you, your comment is under review and will be posted as soon as approved
Lunch
Alfredo, Fettuccini, Italian, "main dish", sauce, seafood, Shrimp