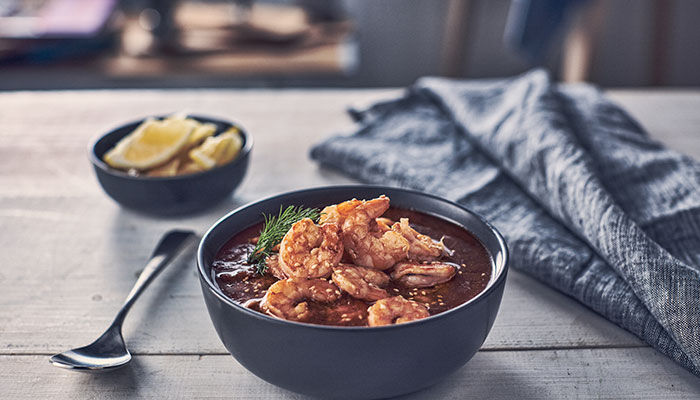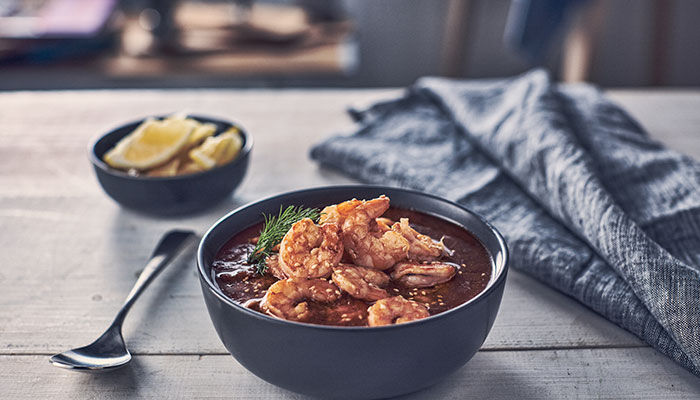 Spicy Shrimp Stew
Plump, meaty shrimps, fresh jalapeño peppers, tomatoes and aromatics combine to make a blissful spicy shrimp stew that comes into its own in the cooler months, particularly when accompanied by toasted, garlic brushed bread for soaking up the sauce. While this recipe is ever so easy, do take care not to overcook the shrimps.
Goody Kitchen
Recipe by: Goody Kitchen
1

 Heat 2 tablespoons extra-virgin olive oil in a large pan over medium. Add the onion and cook, stirring occasionally, until softened. Add Goody Canned tomatoes, the cumin and allspice; 1/2 teaspoon each salt and pepper; and 1 cup water and bring to a simmer.

2

 Meanwhile, mash the jalapeño, garlic, dill and 1/2 teaspoon salt together using a mortar for a few minutes. Add to the tomato sauce and stir to combine. Cover and simmer over low heat, stirring occasionally to break down the tomatoes, until sauce is thickened and flavors meld, about 20 minutes.

3

 Stir in the shrimp, and cook over medium heat, stirring occasionally, until they have just turned pink.

4

   To serve, drizzle with a generous amount of extra-virgin olive oil and scatter with the sesame seeds and chopped parsley.
%comment%
2 Replies
reply
Thank you, your comment is under review and will be posted as soon as approved
Lunch
Asian, "main dish", Shrimp, stew