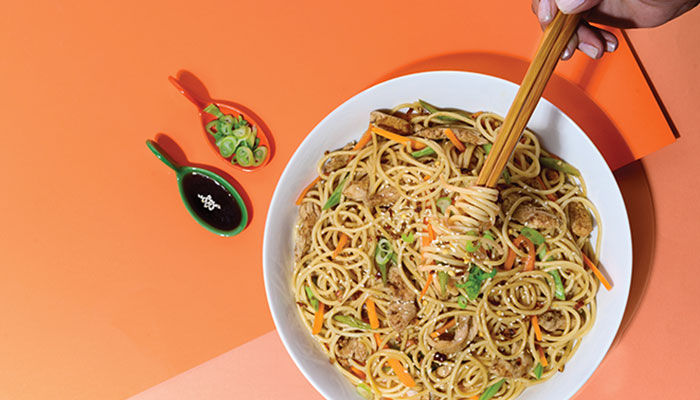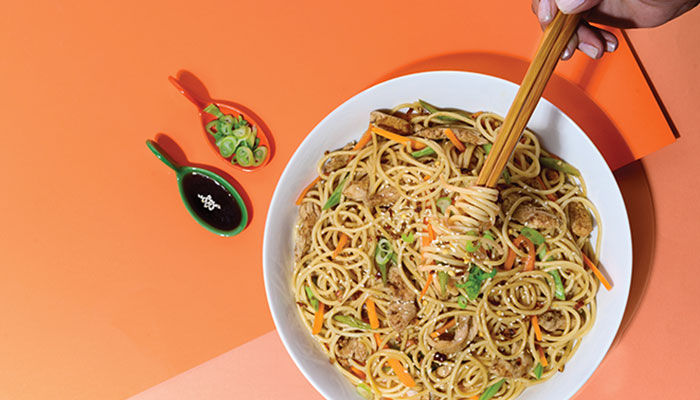 Stir-Fried Pasta With Vegetables Asian style
Switch up the way you serve your spaghetti with this sweet and sticky stir-fried pasta with Asian vegetables. Protein-packed Goody Spaghetti with Quinoa replaces noodles in this creative recipe which barely requires any effort at all to put together. You could easily play around with the ingredients in this mid-week marvel too, try swapping the chicken for prawns or salmon.
Goody Kitchen
Recipe by: Goody Kitchen
1

In a large pot filled with boiled salted water, boil the pasta according to the instructions on the pack; then add the beans to the pasta within the last 5 minutes of cooking. Let it cook with the pasta until it becomes tender. Drain and set them aside.

2

While boiling the pasta, mix the brown sugar, the soy sauce, the Worcestershire sauce, the sesame oil, the ginger, the red pepper, and the black pepper in a small bowl.

3

In a pan over medium heat,  heat the olive oil, then sauté-fry the chicken breasts after seasoning them with salt and black pepper; stirring from time to time for 2 or 3 minutes until they turn golden. Afterwards, add the garlic and carrot, and stir together for another minute until they are cooked.

4

Move the cooked pasta and the beans to the pan; then pour the sauce and stir together until they become well incorporated.

5

Garnish with green onions and toasted sesame seeds, and serve hot.
%comment%
2 Replies
reply
Thank you, your comment is under review and will be posted as soon as approved
Lunch
Asian, Chicken, "main dish", Pasta, Quinoa, Spaghetti