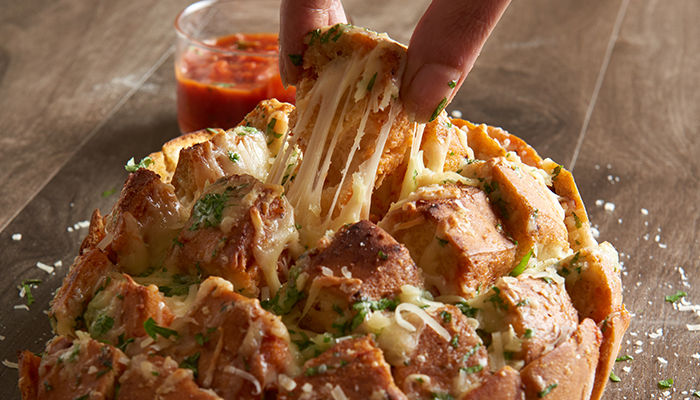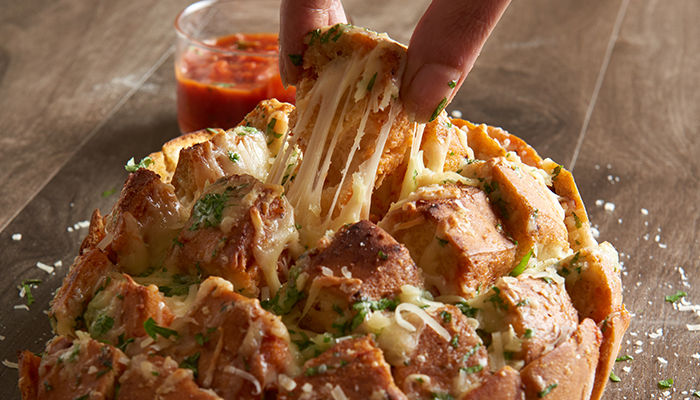 Bread Pizza
Quite simply a glee-inducing dish. This uber-trendy recipe is guaranteed to put smiles on faces and will fill the kitchen with the most tempting aromas imaginable. Our bread pizza takes the popular buttery, garlicky, pull-apart loaf up a flavour notch or three thanks to a homemade tomato sauce, Italian herbs and plenty of cheese. Just the thing for a party.
Goody Kitchen
Recipe by: Goody Kitchen
1

In a large pot over medium heat, heat the olive oil and fry the garlic for a minute, then add the tomato paste and chopped tomatoes and leave them until the mixture boils, then add the remaining ingredients and stir well. Simmer the sauce for 10 minutes or until the sauce becomes thick, and then take it off the heat.

2

Heat the oven at 180oC.

3

In a small bowl, mix well the thawed butter, olive oil and garlic, and set them aside.

4

Using a chopping board and a sharp knife, cut the bread diagonally, and keep a distance of 2 cm from the bread's base (be careful not cut the bread's base), and then slice rows of bread backwards, so that you will have square pieces.

5

In a baking sheet, place a layer of tin foil, and then place the bread. Using a brush, start greasing half the butter and garlic mixture in the bread openings, and then add 1/3 of the marinara sauce between the openings. Add tomato pieces and mozzarella cheese, and then add the remaining butter and garlic mixture. In the final layer, sprinkle the parmesan cheese and Italian spices. Cover the sheet with tin foil, and bake for 15-20 minutes or until the cheese starts to melt.

6

Remove the tin foil and bake for another 10 minutes or until the bread becomes crispy and the cheese melts inside the bread. Serve hot.
%comment%
2 Replies
reply
Thank you, your comment is under review and will be posted as soon as approved
Brunch
breakfast, Italian, Pizza