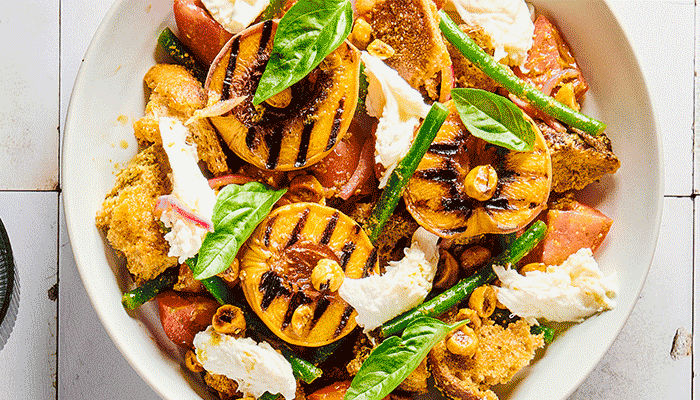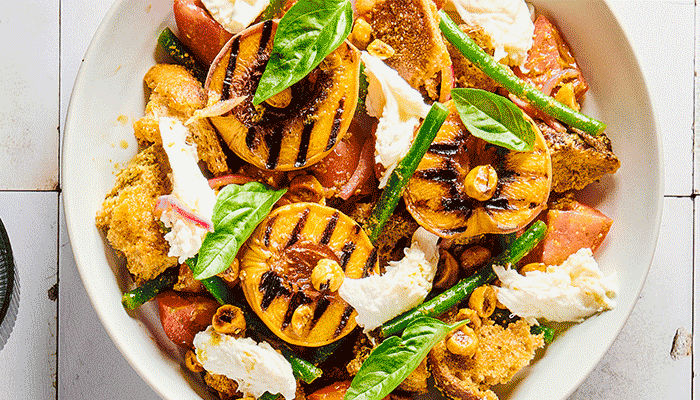 Grilled peach panzanella with rustic croutons and pesto greens
Stunning salad of the best ways to do lunch. You can find the star of the show, a grilled peach, mozzarella and pesto panzanella, it's a must-try!
Goody Kitchen
Recipe by: Goody Kitchen
1

Halve, core and quarter 4 ripe peaches, brush with olive oil and char in a griddle pan.

2

Tear half a loaf of farmhouse bread into large chunks. Drizzle with olive oil and griddle until golden.

3

In a large mixing bowl, combine blanched green beans, toasted hazelnuts, a big spoonful of Goody Green Pesto, and quartered tomatoes. Gently mix through the peaches and croutons. Serve on a large plate and add torn chunks of mozzarella and fresh basil.
%comment%
2 Replies
reply
Thank you, your comment is under review and will be posted as soon as approved