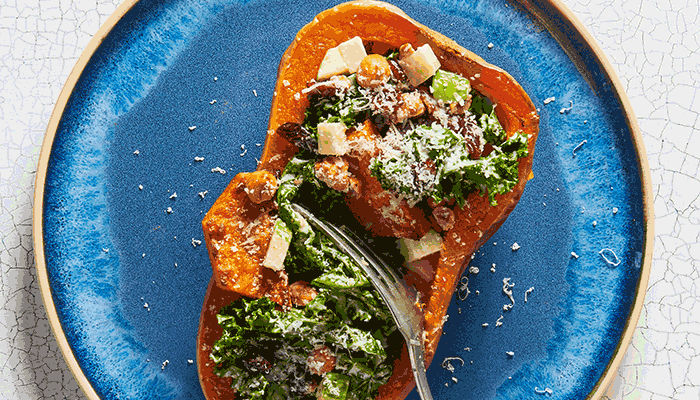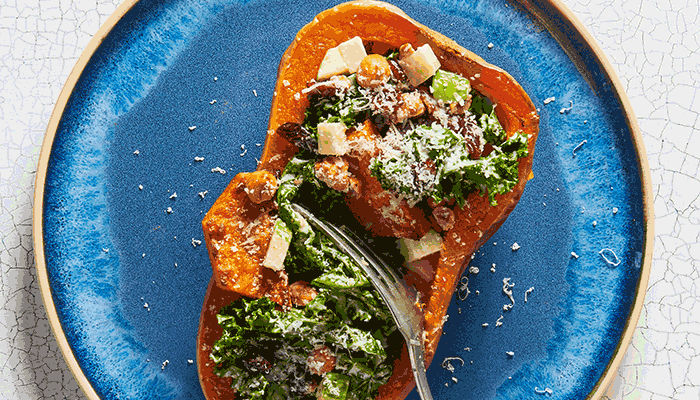 Salad in a squash
Baked butternut squash is delicious by itself. Filling it with a fresh mix of kale, nuts, dried fruits and a creamy ranch dressing is one sure way to take it to the next level.
Goody Kitchen
Recipe by: Goody Kitchen
1

Cut the squash in half and scoop out the seeds. Put three halves on a baking tray and set aside. Peel and slice the remaining half then arrange on a separate baking tray. Preheat the oven to 180C.


2

Mix the oil, nutmeg, thyme and paprika. Season with salt and pepper then drizzle over both trays of squash. Rub all over the squash then roast both trays for 45-60 minutes, or until tender.


3

To prepare the salad, put the sliced kale in a bowl and massage with your hands for 2 minutes. Add the apple, dates, cranberries and hazelnuts. Once the squash is cooked, add the roasted squash and stir in the lemon zest and juice, sumac, the mayonnaise and ranch dressing. Season generously with salt and pepper then load over the roasted whole squash. Grate the parmesan all over the top.
%comment%
2 Replies
reply
Thank you, your comment is under review and will be posted as soon as approved