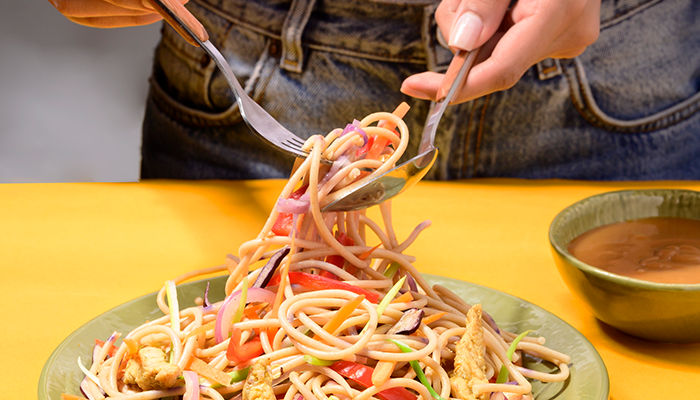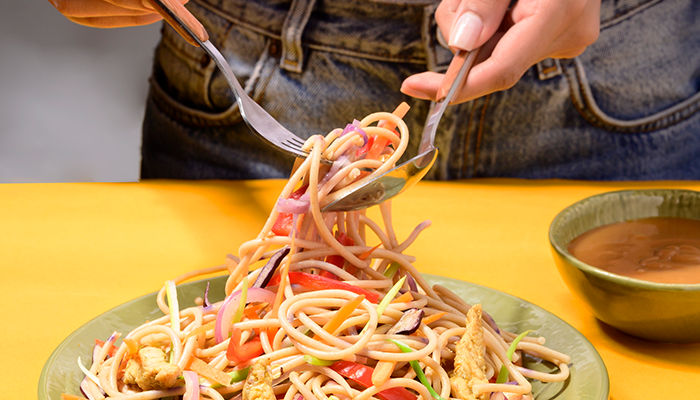 Satay Chicken Pasta Salad
Every day your creativity and your innovations grow, Goody Kitchen provides you with an Asian recipe that will take you to the far east with its delicious flavor, try our "Pasta Salad with Chicken Satay"
Goody Kitchen
Recipe by: Goody Kitchen
1

In a deep bowl, mix all the sauce ingredients well until they are incorporated and become a smooth mixture.

2

Boil the pasta according to the instructions on the pack, then drain it and set it aside.

3

In a deep bowl, put the cabbages and carrots, then add the salt and stir together. Leave them aside from 5 to 10 minutes until they gently wilt.

4

In a deep bowl, place the satay chicken ingredients, except the oil and chicken.

5

In a non-stick pan over high heat, heat the oil, then add the chicken slices; stir for 3 minutes until they turn golden, then place them in a side dish.

6

In a serving dish, place the pasta and the remaining salad ingredients with the chicken and satay mix, and serve.
%comment%
2 Replies
reply
Thank you, your comment is under review and will be posted as soon as approved
Lunch
Asian, Chicken, Pasta, salad, Spaghetti, Wheat, Whole