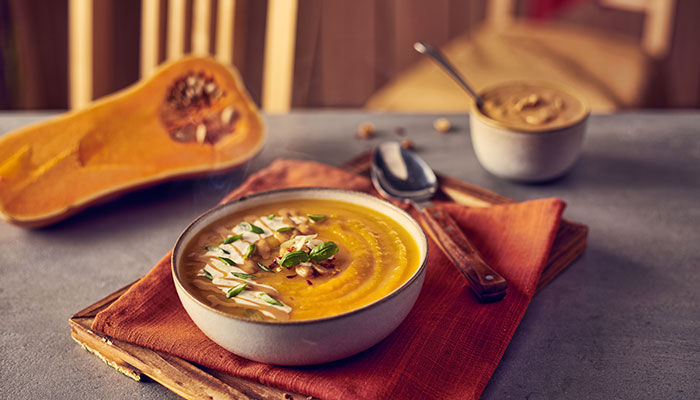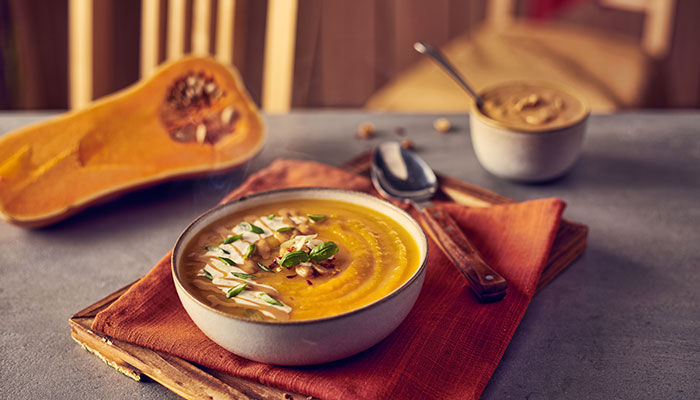 Peanut Butter Squash Soup
Pumpkin soup on the way to Goody Kitchen! Peanut butter with pumpkin adds a distinct flavor to the dish and the taste is irresistible!
Goody Kitchen
Recipe by: Goody Kitchen
1

Add butternut squash, onion, garlic, ginger, and olive oil to a large pot over medium heat. Season with a generous amount of salt and pepper, and add a pinch of red pepper flakes if desired. Cook, stirring often, until the onions are translucent, about 10 minutes.

2

Add water and bring the mixture up to a boil, then reduce to a simmer and allow it to cook until the butternut squash is tender, 10-15 minutes. Carefully add contents to a blender (do it in two batches if necessary), and blend until smooth. Add Goody peanut butter plus additional water if it needs to be a bit thinner, and blend again. Taste and adjust seasonings and spice as necessary.

3

Serve hot with desired toppings. Store in an air-tight container in the fridge.
%comment%
2 Replies
reply
Thank you, your comment is under review and will be posted as soon as approved
Lunch
"Peanut butter", sauce, Soup, soy, squash