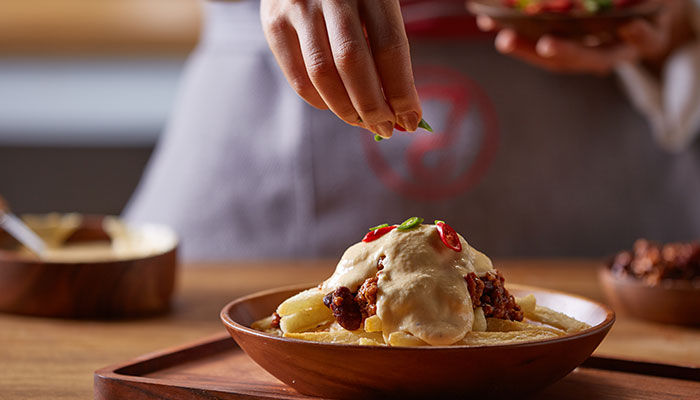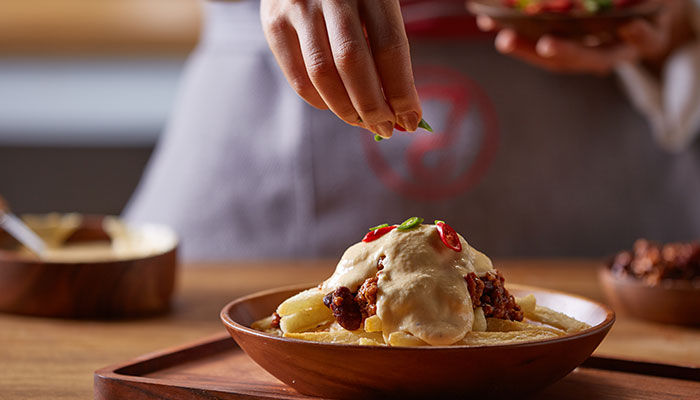 Chilli Fries
When you really want to make someone's day, make them chilli fries for dinner. This dish might take a little time to put together, but the results are well worth it – we're talking crunchy golden fries, an aromatic tomato-meat layer with just the right amount of heat (Goody Mustard is the game-changing ingredient here) and a rich double cheese sauce to finish.
Goody Kitchen
Recipe by: Goody Kitchen
1

To Prepare the Meat:Heat oil in a deep skillet over medium heat; then fry the onion and add the meat, garlic and all the spices; stir the mixture for 12 minutes until the meat is cooked. Afterwards, add the tomato sauce, ketchup, kidney beans and hot sauce; stir the mixture for 5 minutes, then take it off the heat and leave it aside.

2

To Prepare the Cheese Sauce:Place the butter and milk in a pot over low heat and let it come to a boil; then add the cheddar cheese, mustard, and continue to stir until the cheese melts; then take the pot off the heat.

3

Place the potato fingers on an oven-safe serving dish; then top it with the meat and cheese mixture, and sprinkle the mozzarella cheese. Place the dish in the hot oven for 5 minutes until the cheese melts. Take it out of the oven; then garnish with jalapeño and serve hot.
%comment%
2 Replies
reply
Thank you, your comment is under review and will be posted as soon as approved
Dinner
American, appetizer, Chilli, Fries