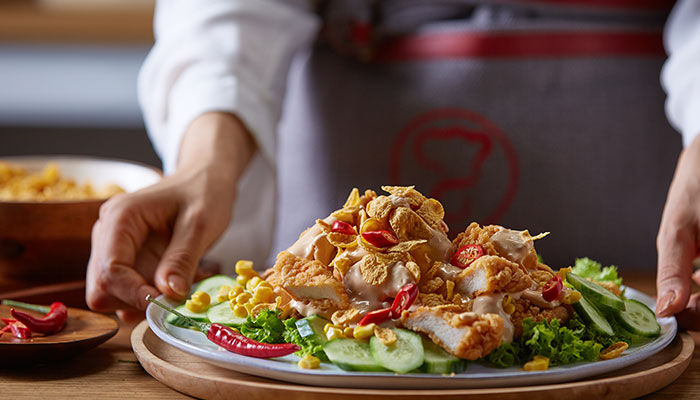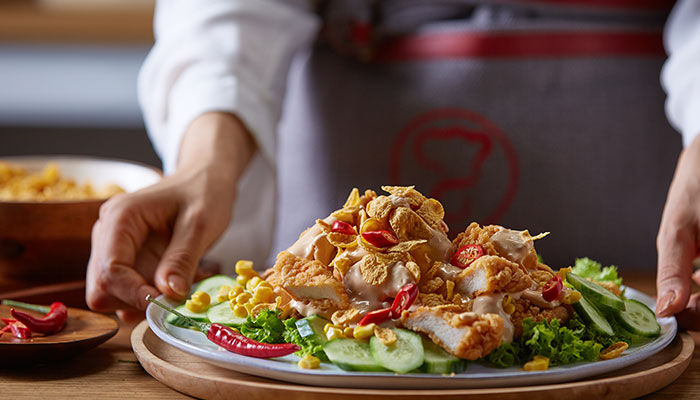 Dynamite Chicken
Our riff on ever-popular dynamite chicken is more akin to a gourmet salad than a fast-food dish and tastes all the better for it. Tender chicken pieces are lightly fried until crisp and golden before being tossed with a quick-to-prepare dynamite sauce and layered onto a vibrant, crunchy salad base.
Goody Kitchen
Recipe by: Goody Kitchen
1

Using a frying pan, heat the oil over medium heat.

2

In a bowl, place the chicken, then add the flour, starch, and salt, then stir well. Fry the chicken until cooked, then set it aside over parchment paper to absorb the remaining oil. Place it in another bowl and set it aside.

3

In a side dish, mix all the dressing ingredients together until an incorporated dressing is formed. Add the dressing to the chicken pieces and mix well.

4

Garnish the serving dish with lettuce and onions, then stack the chicken pieces and serve hot.
%comment%
2 Replies
reply
Thank you, your comment is under review and will be posted as soon as approved
Lunch
appetizer, Asian, Chicken