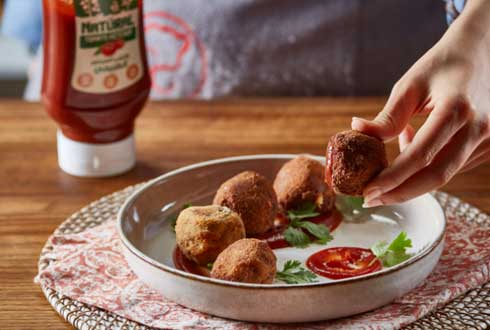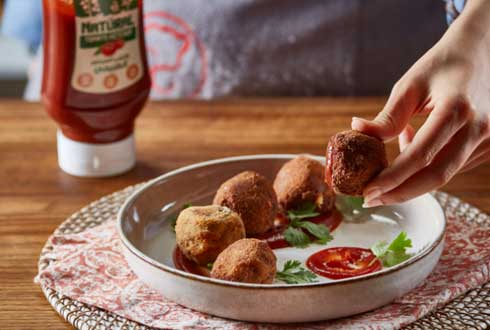 Vegetable Cheese Balls
The Vegetable Cheese Balls meal is vegetable balls with breadcrumbs, tomato ketchup and hot sauce a special meal for you and your family.

Goody Kitchen
Recipe by: Goody Kitchen
1

Mash the boiled vegetables in the food processor until an incoherent vegetable mixture is formed. Afterwards, add the spices, cheddar cheese, onion pieces, garlic cloves, oil, salt and black pepper and continue to stir. Add 2 – 3 tablespoons of breadcrumbs gradually until you obtain a moldable incorporated mixture, and then take a handful of the mixture and shape them into balls (with 1, 50 cm diameter). Repeat the process until the amount runs out.

2

Whisk the milk with the eggs; dip the vegetable balls in them, and cover them with breadcrumbs. Refrigerate them for 15 minutes or until they are incorporated.

3

Heat the oil over medium heat and fry the vegetable balls for 10 minutes until they are browned; take them out and place them on kitchen paper to absorb the remaining oil. Place them in the serving dish.
%comment%
2 Replies
reply
Thank you, your comment is under review and will be posted as soon as approved