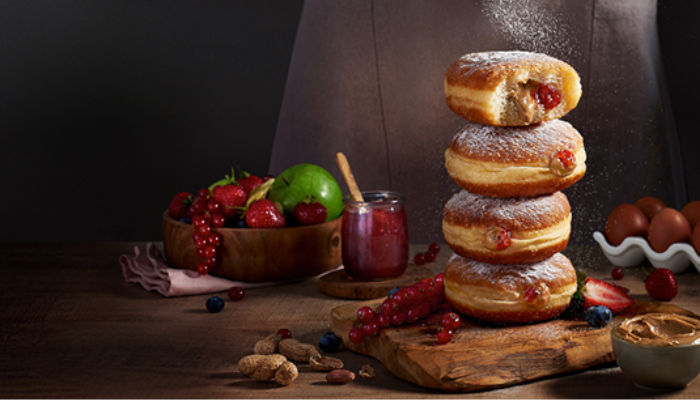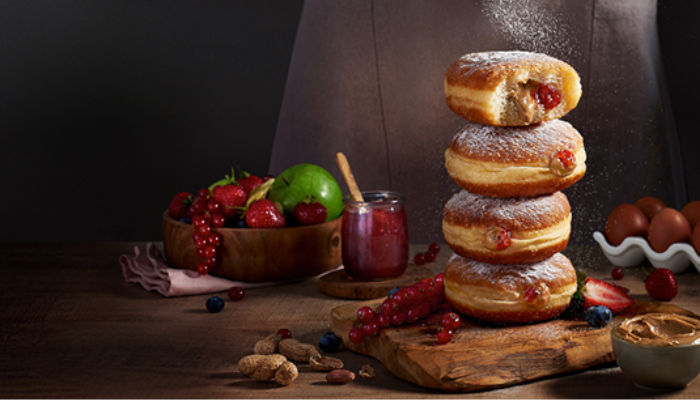 Flax and chia seeds Peanut Butter & Jelly Donuts
There's a reason why artisan donuts are the sweet treat that everyone is talking about. Our recipe for pillowy soft, light and fluffy stuffed peanut butter & jelly doughnuts is as tasty as it is on-trend and offers the perfect opportunity to take your baking skills to the next level.
Goody Kitchen
Recipe by: Goody Kitchen
1

In a small bowl dissolve yeast in warm water, set aside and allow it to foam up; about 5 minutes.

2

In a large bowl combine warm milk and butter, whisk until butter has completely dissolved. Add in sugar, egg yolk and egg, salt, yeast mixture and 3 cups flour; beat until smooth. Stir in enough remaining flour to form a soft ball of dough (don't knead the dough just yet).

3

Place ball of dough in a lightly greased bowl, turning once to grease top. Cover tightly with saran wrap and let rise in a warm place for 1 hour.

4

When the hour has passed:

5

Punch the dough down and turn it onto a lightly floured surface; knead 8 times.

6

Divide the dough in half, creating two even sized balls of dough.
%comment%
2 Replies
reply
Thank you, your comment is under review and will be posted as soon as approved
Desserts
American, Dessert, Donuts, PeanutButterQR