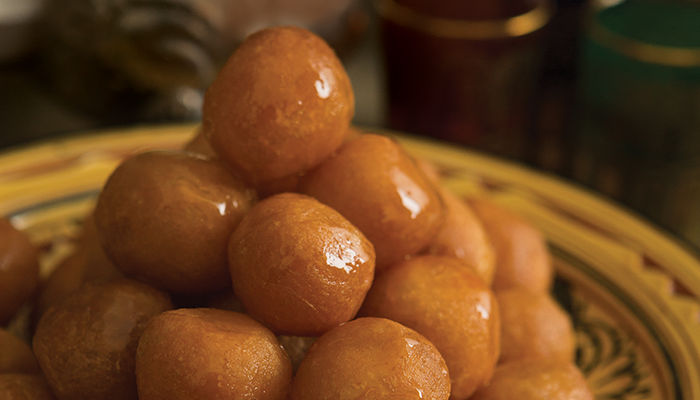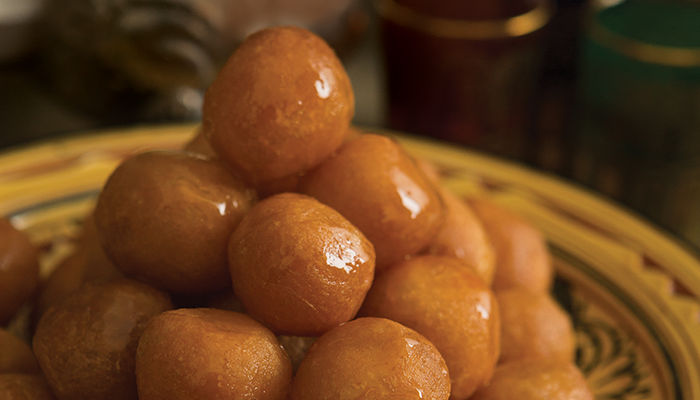 Lokmat Al-Kadi
A much-loved Ramadan recipe to savour, both in the preparing and the eating. Follow our step-by-step guide to making traditional, crisp on the outside, light in the centre lokmat al-kadi and you won't look back. This gorgeous dessert comes together in stages; first prepare the dough, then carefully fry until golden brown and finally douse the fluffy, cloud-like balls in Goody Arabic Sweet Syrup.
Goody Kitchen
Recipe by: Goody Kitchen
1

Place all the dry dough ingredients in an electric mixer; then gradually add the water while continuing to blend. Mix the dough for 10 minutes in order to obtain an elastic piece of dough, then place it in a bowl and cover it with nylon sheet. Leave it to rise in a warm place for half an hour until doubled.Open the nylon sheet and stir the dough lightly with a plastic cake spatula for a few seconds only. Re-cover the dough and leave it in a warm place for another 15 minutes.

2

For Frying: Heat a cup of oil in a deep skillet over high heat, and place the remaining oil in a small bowl beside the skillet.

3

Put half the amount of syrup in a medium-sized bowl and leave it beside the skillet.

4

Dip a teaspoon in the oil in the small bowl, and grease the dough. Take a spoonful amount of the dough, and drop it with your thumb in the hot oil, so that the dough will slide in the oil in form of a ball. Repeat the process lightly and quickly with the rest of the dough until the skillet is full.

5

Press the Lokmat Al-Kadi lightly using a slotted frying spoon; while continuing to stir for about 3 minutes until the balls turn golden. Take out the Lokmat Al-Kadi balls from the oil and place them in the syrup immediately.Using a slotted spoon, lightly stir the Lokmat Al-Kadi balls in the syrup to absorb it completely. Afterwards, take the Lokmat Al-Kadi balls out of the syrup; then place them on the serving dish and serve.
%comment%
2 Replies
reply
Thank you, your comment is under review and will be posted as soon as approved
Desserts
arabic, Dessert, Khaliji