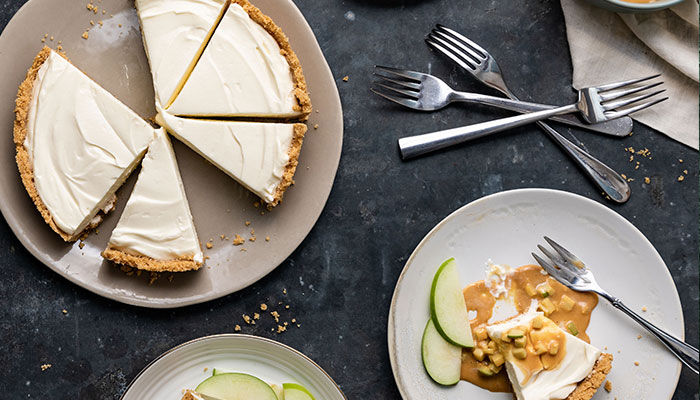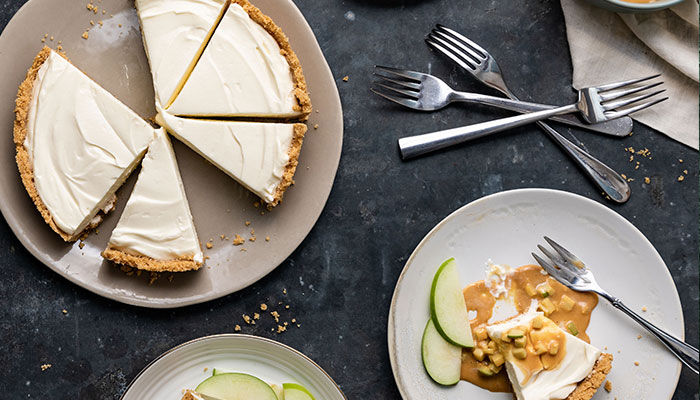 No-Bake Caramel Apple Cheesecake
This indulgent no-bake caramel apple cheesecake delivers layer upon layer of exceptional taste and texture; there's a buttery, crumbly biscuit base, creamy yet wonderfully tangy filling and a sweet, caramel topping. Serving tart sliced apples on the side meanwhile is a genius trick that balances the richness of the dessert brilliantly.
Goody Kitchen
Recipe by: Goody Kitchen
1

لتحضير الكراميل، اسكبي الحليب المكثف في وعاء زجاجي، ثم ضعيه فوق قدر من الماء بالكاد يغلي، مع التأكد من أن أسفل الوعاء الزجاجي لا يلامس الماء. حركيه كل 20 دقيقة لمدة 2.5-3 ساعات، أو حتى يصير لون المزيج بنيًّا كما لون الكراميل.

2

برديه جانبًا حتى يصير بدرجة حرارة الغرفة، ثم قطعي التفاحة إلى مكعبات صغيرة وأضيفيها إلى الكراميل.

3

اخلطي فتات البسكويت مع الزبدة المذوبة وضعيها في قالب خبز مستدير ذي قعر قابل للنزع، بقياس 8 إنش. استخدمي مقاييس الكوب لتوزيع معجون الفتات بالتساوي وضغطه في القعر وعلى الأطراف. ضعي القالب في البراد.

4

في وعاء متوسط الحجم، اخفقي الكريمة حتى تصبح بعلو متوسط، ثم دعيها جانبًا.

5

اخفقي السكر الناعم في وعاء كبير مع الكريمة الحامضة وبودرة السكر وعصير الليمون وخلاصة الفانيليا. اسكبي كريمة الخفق فوقها على مهل.
%comment%
2 Replies
reply
Thank you, your comment is under review and will be posted as soon as approved
Desserts
American, Apple, Caramel, Cheesecake