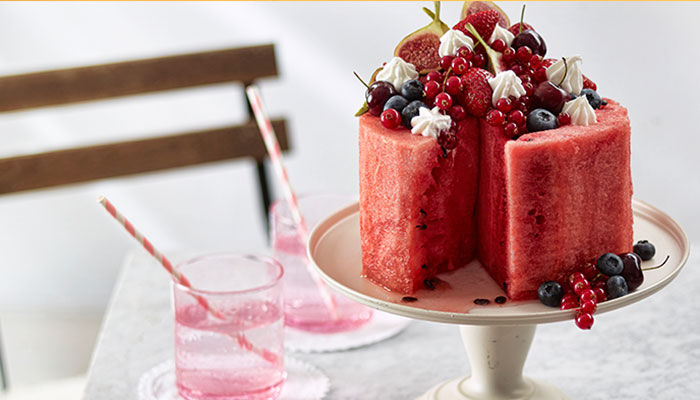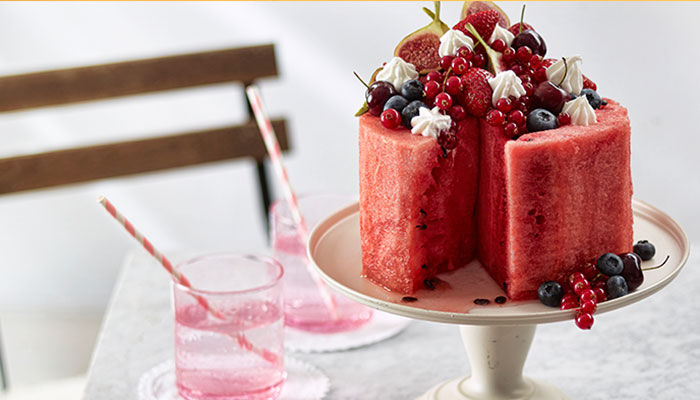 Watermelon Cake
A fruit cake like no other. Vibrant, refreshing and absolutely Instagram-worthy, this watermelon cake sees the juicy fruit jazzed up and presented like never before. It's worth keeping in mind that the size of the watermelon will dictate the height of your cake and that a sharp knife is essential for carving. Decorate with fruit and whipped cream just before serving.
Goody Kitchen
Recipe by: Goody Kitchen
1

Slice off top and bottom of the watermelon and place upright on one end. Using a large knife, slice from top to bottom, angling knife as you get towards the bottom, to remove all of the peel and white pith. Then slice water- melon to desired height (keep it tall for a dramatic birthday cake or slice evenly in the middle to form two separate "cakes") and thinly slice along sides until smooth and even.

2

Meanwhile, whip up the cream and prepare the fruits.

3

Place watermelon onto cake stand or serving plate.

4

Place pineapples and peach at the base and top of the "cake" to form a ring. At this point, the "cake" can be placed in the fridge until ready to serve.

5

Before serving, top "cake" with whipped cream and berries. Garnish with mint leaves.
%comment%
2 Replies
reply
Thank you, your comment is under review and will be posted as soon as approved
Desserts
blueberries, cake, easy, healthy, pineapple, strawberries, Watermelon