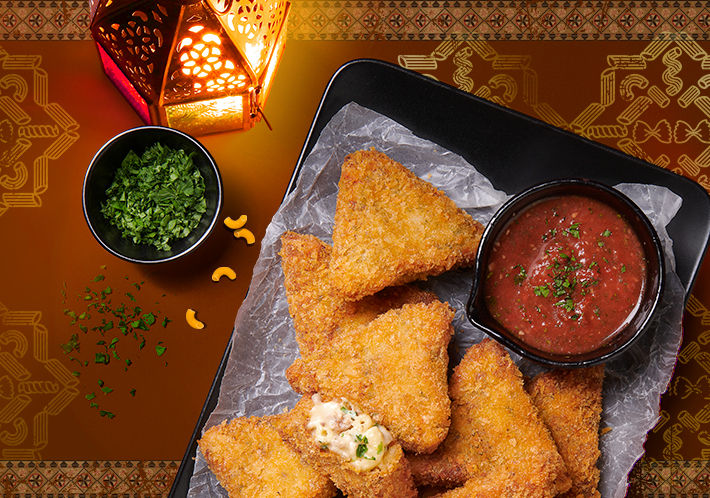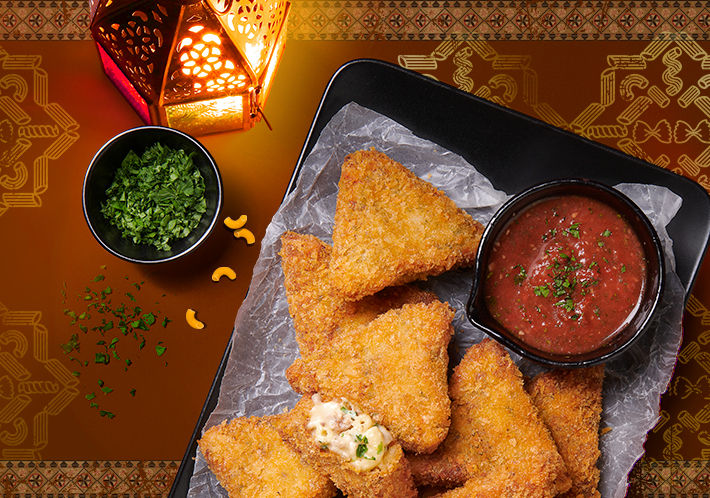 Mac n Cheese Samboosa
And here you thought Samboosa doesn't get any better! This Hijaz inspired dish will become an iftar staple!
Pastapedia
Recipe by: Pastapedia
1

Cook the pasta as per the instructions on the pack.

2

In a large pot, melt the butter over high heat. Whisk in flour until golden then gradually add milk while whisking continuously until smooth and thickened.

3

Remove from heat, then gradually stir in mustard and cheese until combined. Season with salt then add cooked pasta, meat and parsley. Stir to combine.

4

Line a 20*30 cm baking dish with parchment paper, brushed lightly with oil. Spread pasta mixture evenly, then cover and refrigerate until firm (preferably overnight).

5

Cut set mac and cheese into triangles with a sharp knife.

6

In one bowl, add panko. In a separate bowl, whisk the egg with salt and pepper.

7

Dip mac and cheese triangles in the beaten egg and let any excess drip off. Then coat in panko, making sure the entire piece is well coated.

8

Deep fry breaded triangles in hot oil (180C), until golden brown. Drain on kitchen paper, and serve with a side of daqous.
%comment%
2 Replies
reply
Thank you, your comment is under review and will be posted as soon as approved
Dinner
and, cheese, mac, pasta, samboosa