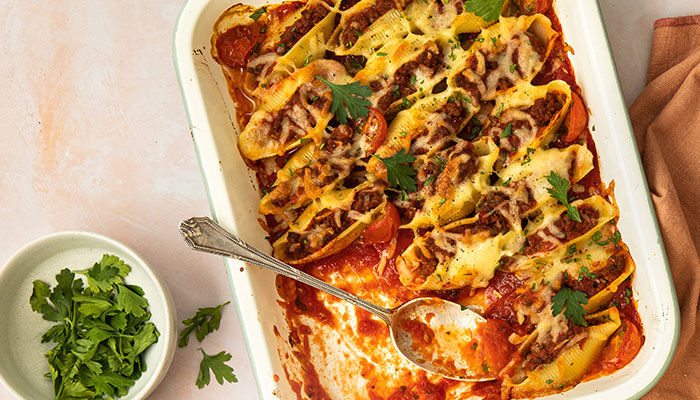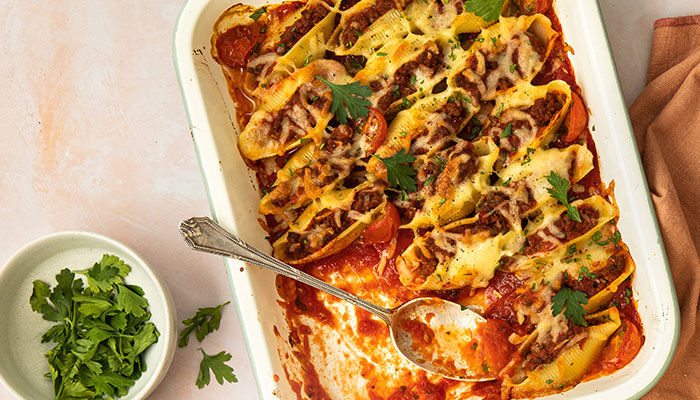 Baked Conchiglioni
Think of this inventive dish as our all-new twist on traditional layered lasagne. Blanched pasta shells are filled with a hearty tomato-based beef ragu before being scattered with both mozzarella and parmesan. A quick turn in a hot oven results in a bubbling baked conchiglioni dish that cries out to be served with garlic bread and a crisp green salad.
Goody Kitchen
Recipe by: Goody Kitchen
1

Set a large saucepan with the oil over a medium heat. Cook the onion for 5-6 minutes, or until turning soft and translucent. Add the garlic and cook for 1 minute more.

2

Add the beef mince and cook, breaking up with a wooden spoon as you stir. Brown the meat all over for 6-7 minutes then add the sieved tomatoes, tomato purée and brown sugar. Gently simmer for 20 minutes, or until the mixture is deep red in colour and almost no liquid remains. Stir in the whole milk and reduce the heat to low.

3

Cook the conchiglioni for 12 minutes in a large pan of salted boiling water. Drain, drizzle with olive oil and separate the shells from each other.

4

Spread the arrabbiata sauce over the bottom of an ovenproof baking dish and preheat the oven to 180°C.

5

Spoon tablespoons of the beef ragu mixture into the pasta shells and place into the baking dish. Repeat until all of the shells and ragu are used. Mix together the mozzarella and parmesan and scatter over the stuffed pasta. Bake for 15 minutes until the top is golden brown and bubbling. Scatter with parsley before serving.
%comment%
2 Replies
reply
Thank you, your comment is under review and will be posted as soon as approved
Dinner
Arrabbiata, beef, Conchigli, Italian, "main dish", Pasta