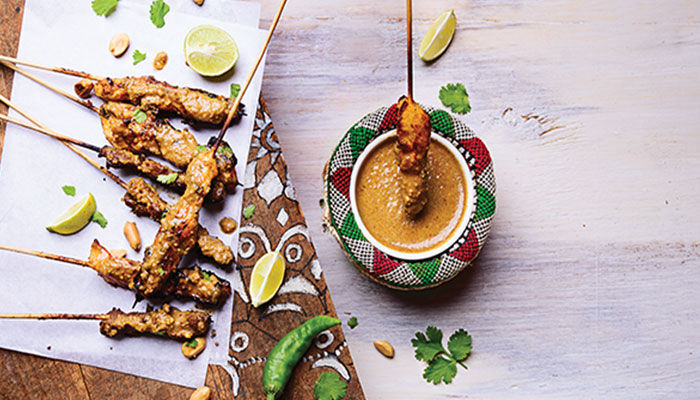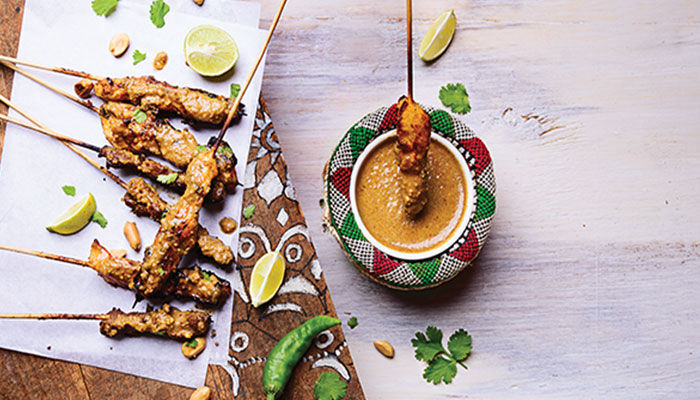 Chicken and Beef Satay With Peanut Sauce
Our homemade satay sauce tastes like a dream; Goody Creamy Peanut Butter provides a rich nuttiness, there's sweetness from the honey, heat courtesy of the Goody Hot Sauce, while soy and fish sauces add an appealing umami element. For best results, serve this chicken and beef satay with peanut sauce alongside a crunchy, zesty cabbage slaw.
Goody Kitchen
Recipe by: Goody Kitchen
1

Mix the seasoning ingredients in a bowl, then pour the mixture evenly in medium-sized bowls; afterwards, place a chicken piece in one bowl, a meat piece in the other. Mix them well in the mixture and cover them in nylon sheet and refrigerate them for at least 3 – 4 hours.

2

To Prepare the Satay Sauce: Heat the coconut oil in a skillet over medium heat, then fry the minced onion and garlic cloves for 7 minutes or until the ingredients become tender; and then lower the heat. Afterwards, add the peanut butter, honey and hot sauce; while continuing to stir rapidly for 10 minutes so that the mixture won't burn and until the mixture is incorporated. Place it in the electric mixer, then add the coconut milk, fish sauce and soy sauce; stir for 4 minutes at high speed until the mixture is incorporated.

3

To Prepare the Satay: Heat the oven grill at 200o Thread chicken and meat pieces on wooden skewers, and then place them on an oven sheet. Grill the chicken and meat for 15 minutes or until they turn brown. Flip the skewers on the other side and grill for another 15 minutes. Place the skewers on the serving dish, and serve them with a bowl of satay sauce.
%comment%
2 Replies
reply
Thank you, your comment is under review and will be posted as soon as approved
Dinner
Asian, Chicken, "main dish"