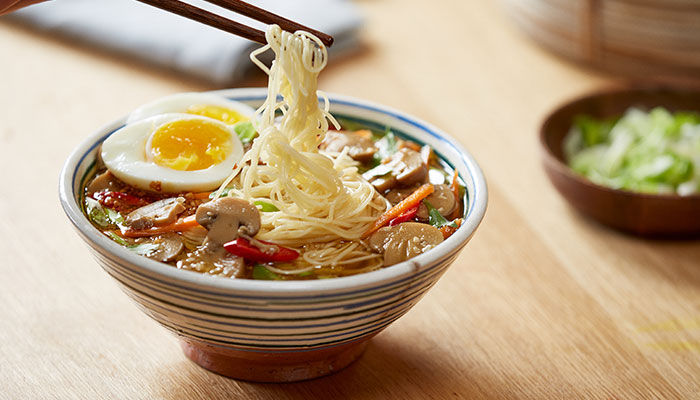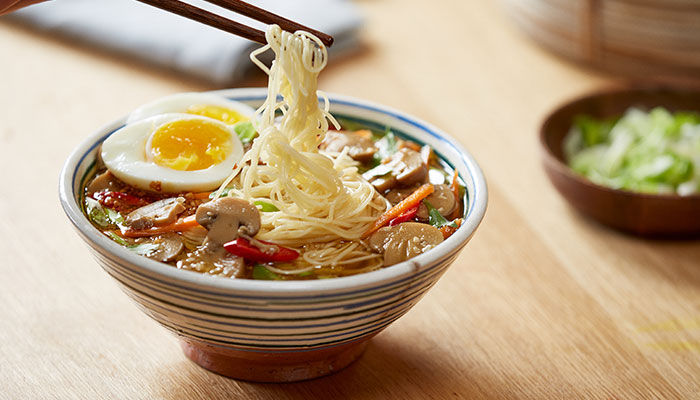 Chicken Ramen
Try your hand at the dish of the moment with this seriously tasty chicken ramen recipe (note: we couldn't resist giving it a Goody twist, replacing the traditional noodles with Goody Vermicelli). Follow our instructions for cooking the eggs meanwhile and you'll end up with completely cooked whites and firm but gooey yolks (otherwise known as the perfect jammy egg).
Goody Kitchen
Recipe by: Goody Kitchen
1

To Prepare the Vermicelli Stock:In a large pot over medium heat, heat the oil, then add garlic and ginger; stirring for a few minutes. Afterwards, add the soy sauce and leave it for a minute, then add the chicken stock cubes and cover them with water until the mixture is boiled. Remove the pot's cover and leave the mixture over the heat for 5 minutes, then add the carrots and mushrooms, and leave them over the heat for 10 minutes. Sprinkle the salt according to taste.

2

To Prepare the Boiled Eggs:In a pot filled with water, boil the eggs the way you want. To obtain liquid egg yolk: Boil the eggs for 7 minutes. If you want smooth egg yolk but somewhat coherent: Boil the eggs for 8 minutes. (It is preferable to take the eggs out of the refrigerator at this step).After boiling the eggs, place it in a bowl filled with ice water until it stops boiling. After 5 minutes, start peeling the eggs, then cut them lengthwise from the middle. Set it aside until serving time.

3

To Prepare the Vermicelli Bowl:In a pot filled with boiling water over the fire, boil the vermicelli for 8-10 minutes until it becomes soft and divide it into two big bowls. Afterwards, cut the chicken into small pieces and add it to the bowls and garnish with green onions, jalapeno pepper, boiled eggs and a little coriander. Serve immediately.
%comment%
2 Replies
reply
Thank you, your comment is under review and will be posted as soon as approved
Lunch
Asian, Eggs, lunch, "main dish", Nest, Pasta, Vermicelli