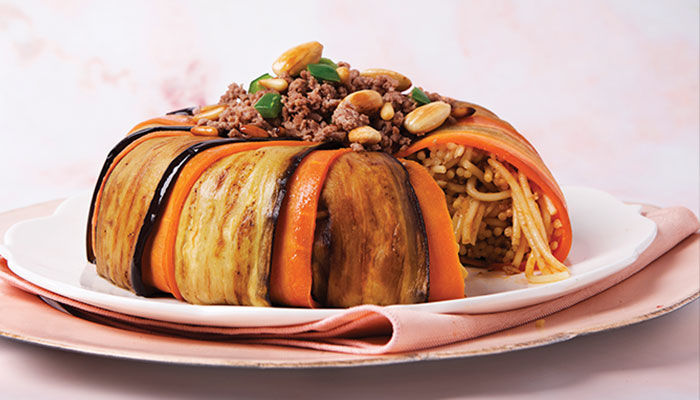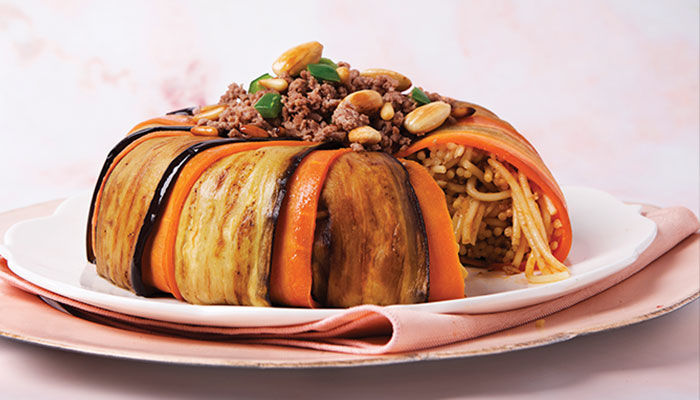 Eggplant-Spaghetti Maklouba
This beautifully presented eggplant spaghetti maklouba recipe offers a sensational twist on the conventional dish thanks to the presentation technique, omission of rice and addition of spaghetti. Take your time putting this impressive meal together and your efforts will be well rewarded.
Goody Kitchen
Recipe by: Goody Kitchen
1

 Heat the oven at 180°C.

2

Grill the eggplant and carrots after coating them with oil.

3

In a pan over the heat, fry the meat and then season with salt, black pepper, onion powder and spices, and put aside.

4

Boil the spaghetti according to the instructions mentioned on the package, then drain and wash it, and add the tomato sauce, two spoons of minced meat and a little salt and black pepper.

5

Using a circular mold, place the carrots and eggplant slices respectively, leaving the sides outside the mold, then place the spaghetti and cover with a layer of tin foil and place in the oven for 5 minutes.

6

In the serving dish, flip the mold, then place the minced meat and garnish with the almonds and pine nuts.
%comment%
2 Replies
reply
Thank you, your comment is under review and will be posted as soon as approved
Dinner
Eggplant, "main dish", Mediterranean, Pasta, Spaghetti