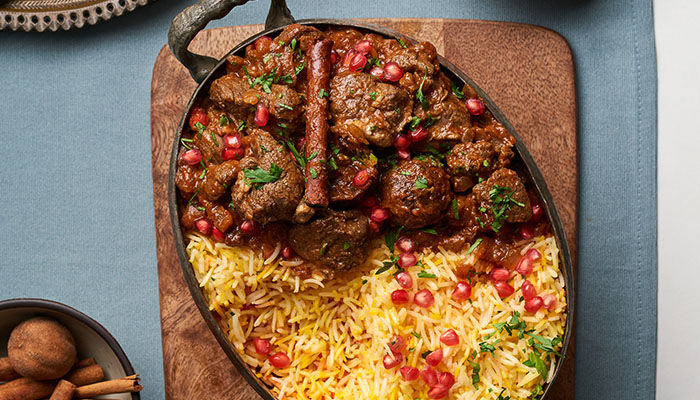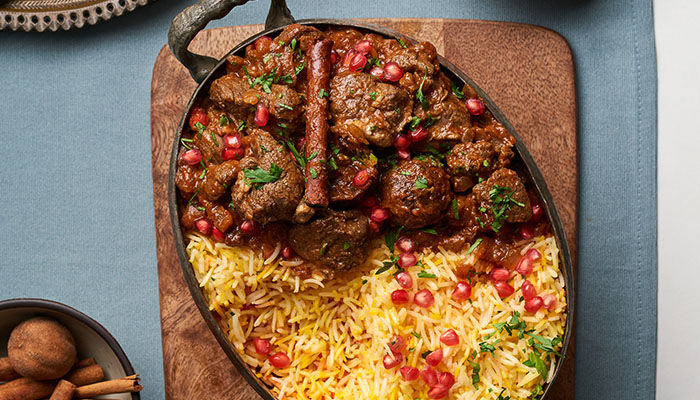 Iranian lamb stew
Rich, decadent, perfect for Eid Al Adha. Our Iranian lamb stew features lamb shoulder slow-cooked in a spicy-sweet tomato sauce, served with gorgeous saffron rice on the side.
Goody Kitchen
Recipe by: Goody Kitchen
1

In a large bowl, combine the lamb cubes with the cumin, coriander, cayenne pepper, cinnamon and sumac. Add the olive oil, season and coat well.


2

Set a large ovenproof saucepan with a lid over a medium heat. Cook the lamb cubes for 8-10 minutes, or until browned all over. Remove the lamb and add the onions, garlic and ginger. Cook for 6-8 minutes or until turning translucent.


3

Return the lamb with the sieved tomatoes, stock, cinnamon stick and dried limes. Top with the lid slightly ajar and bake for 2-3 hours, or until the meat is tender.


4

While the meat cooks, make the saffron rice. Bring the vegetable stock to a boil in a saucepan. Add the saffron and a pinch of salt. Add the rice, return to the boil then lower the heat. Cover with a lid and cook for 12-15 minutes, or until the rice has absorbed the liquid. Remove from the heat and leave for 10 minutes, lid on. Gently fluff up the rice using a fork, not a spoon, stirring in the coriander.


5


Serve alongside the lamb garnished with pomegranate seeds and served with Goody Greek Mint Yogurt on the side.

%comment%
2 Replies
reply
Thank you, your comment is under review and will be posted as soon as approved